Some really sad Los Angeles DUI news out of Sun Valley — a veteran LAPD officer suffered massive injuries following a weekend crash. He is reported to be in "very critical condition" at the Providence Holy Cross Medical Center, and 100 police officers and members of the community have donated blood in an attempt to aid his treatment.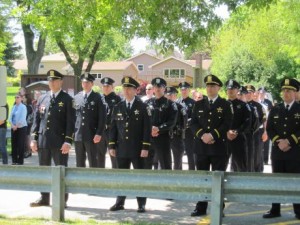 Valley Traffic Division Commanding Officer, Maureen Ryan, reported that "he has spinal injuries. They are trying to stabilize to get him ready for a serious surgery regarding his back."
According to reports, a woman driving a Chevy Blazer hit his motorcycle from behind. Her driver's license had expired nearly 10 years ago, and authorities later arrested her for drug DUI. Ryan said that "it's ironic. It's tragic. This woman chose to drive while being impaired. That's why we are out there, to save lives."
On Saturday evening, the 26 year veteran officer had been stopped at a red light, when a Chevy Blazer traveling southbound failed to see light and smashed into the motorcycle, crushing the officer against a Honda Accord that had stopped in front of him. The 33-year-old driver, Qaneak Cobb, is being held at the Van Nuys jail on $185,000 bond.
Per Los Angeles Superior Court records, Cobb has a significant criminal history, including charges that she possessed narcotics and a theft conviction. She was also driving on a license that had expired way back in June of 2005.
Our hearts and prayers go out to the brave officer, and we hope that he pulls through despite the horrific injuries.
In a DUI case in which someone gets hurt, prosecutors can ask to elevate what ordinarily would be a misdemeanor DUI charge (per CVC 23152) to an injury DUI charge (per CVC 23153). Even a misdemeanor charge carries substantial penalties, such as mandatory jail time, mandatory license suspension, forced alcohol school, probation, and (in some cases) forced installation of an interlock ignition device on the offender's vehicle.
But charges per 23153 are even more intense. Depending on the nature of the alleged crime and what happened to the victim, the offender could face over a year behind bars – perhaps substantially longer.
The team here at the Kraut Law Group can help you build a defense to a Los Angeles DUI injury charge. Call former prosecutor and experienced criminal defense attorney, Michael Kraut, and the Kraut Law Group team today for a confidential assessment of your case.
Continue reading