Unless you've been hiding under a rock, you've probably heard something about the big Los Angeles DUI news story of the week: MMA Champion, Tito Ortiz, smashed up his 2012 Porsche Panamera on the 405 at around 4:00 a.m. earlier this week.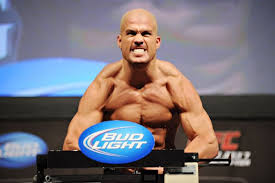 The California Highway Patrol reports that the crash happened near Santa Monica Boulevard and Sepulveda – a notoriously confusing stretch of the 405.
According to some reports, that section of the 405 – near the freeway's intersection with the 10 – is one of the most congested intersections on the entire continent… during the day, that is! During evenings and nights, the 405 can transform into almost dystopian landscape with seemingly endless stretches of barren freeways punctuated by drivers zipping along at breakneck speeds.
In any event… the 38-year-old Ortiz had been heading north, when he lost control over the Porsche and smashed into the center median strip. Two people in the car with him luckily survived without serious injury. Ortiz blew a 0.12% on a subsequence breathalyzer test. (As regular readers of this blog know, 0.12% is 1.5 times the legal limit for DUI in Los Angeles, West LA, or elsewhere in Southern California.)
Police booked Ortiz at 6:00 AM at a local station; he easily met his bond of $15,000. Reports say that Ortiz and his friends had been partying at the Playboy Mansion — a pre-party for the BCS National Championship. Ortizs holds the title of UFC light heavyweight champion.
He will face his misdemeanor DUI charge in court on January 27th.
Putting Ortiz's Arrest in Context to Help You Make Sense of Your Los Angeles DUI Charge
One of the weirdest elements of the Los Angeles freeway and surface street system is the disconnect between what our roads are like during the day and what our roads are like during the evenings. Of course, there's always a chance you'll hit a sig alert on the 134 or the 101 at 4 a.m. But for the most part, the freeways clear off at night. During the day, however, they clog like arteries. As a result, traffic congeals, then freezes, then flows, much like how Antarctic ice floes operate. This peculiar process may be important to your defense, because different types of freeway conditions promote different types of driving behavior. (For instance, Ortiz would have had a difficult time careening wildly into the median on the 405 at 4:00 p.m. on a Monday because of the traffic congestion.)
To make sure that you understand exactly what happened, why, and what kind of Los Angeles DUI defense you may be able to construct, connect with an experienced attorney here at the Kraut Criminal & DUI Lawyers today for insightful, lucid, and strategic insight.