Recent studies commissioned by the AAA Foundation for Traffic Safety found that fatal crashes involving drivers who recently used marijuana doubled in Washington State after it legalized usage of the drug. This fact makes it clear that states need good ways to get drivers under the influence of marijuana off the road. But there's a big problem. To date, there's no reliable and widely accepted method of measuring levels of marijuana in a driver's system.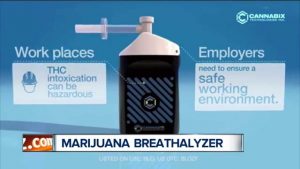 It would be great if companies could develop the equivalent of an alcohol breathalyzer for testing for motorists who are DUI for cannabis. Law enforcement officials have been relying on breathalyzer technology to estimate blood alcohol levels for decades. In addition, there's a clear-cut agreement of what constitutes DUI; all 50 states accept a BAC of 0.08 percent or greater as the dividing line.
But it isn't that easy when it comes to determining DUI for marijuana.  First, police need a roadside method of measuring levels of cannabis's main active ingredient, tetrahydrocannabinol (THC), in a driver's system. There are a few companies and university researchers that are attempting to solve this challenge right now, and some are already marketing devices.