Glendale DUI Debacle: Did DUI Firefighter Nearly Kill a Motorcyclist?
Picture in your mind someone who's been charged with driving under the influence in Glendale. Odds are, you'll conjure up a stereotype, like: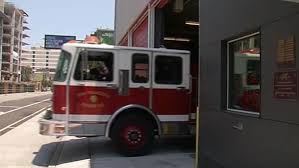 • A recidivist alcoholic;
• A college student at UCLA or USC who got busted after a night of partying;
• A debouched celebrity who's been in and out of rehab.
Odds are, you did not picture a firefighter on a rescue mission.
But disturbing new reports from the San Francisco Chronicle suggest that DUI driving may actually be common among Bay Area firefighters.
Two fire chiefs and a battalion chief may be on the verge of suspension, after a firefighter drove DUI in a fire truck and slammed into a motorcyclist at the intersection of Howard Street and 5th Street. Michael Quinn, a lower level firefighter, allegedly had been drinking at a bar before he hopped into his truck to respond to what turned out to be a false alarm.
During the rescue mission, the fire truck smashed into motorcyclist, Jack Frazier, and catapulted him into a fire hydrant. Frazier broke many bones and suffered a collapsed lung. Amazingly (and fortunately) he survived the crash, but he's still struggling and in pain from his injuries.
After the crash, the firefighter's blood alcohol concentration level was measured; it came back at 0.13 percent. That's just 0.03% percent shy of double the California (and Glendale DUI) limit of 0.08%. Other firefighters involved in the crash tested negative for DUI and drug consumption.
Frazier's attorney pointed out that, while the firefighter "made an incredible … egregious mistake," the problem of firefighter DUI driving appears to be "systematic."
What can we take away from all this?
1. First of all, if you've been arrested for driving DUI in Glendale, appreciate that you're not the only "ordinarily upstanding citizen" who's ever been charged with a similar crime.
2. Secondly, use the incident as a wake up call. Strive to understand what's going in your life that may have motivated you to act carelessly (if you did indeed act carelessly).
3. Third, if you have not already done so, take time to connect with a DUI defense attorney to construct your defense. Mr. Michael Kraut of the Kraut Criminal & DUI Lawyers is an experienced, respected Glendale DUI defense lawyer; he and his team can help you put together a sound, results-focused case.

If you have been arrested for a DUI in Glendale or you are under investigation for driving under the influence in Southern California, please contact Glendale criminal defense attorney Michael Kraut for 24/7 assistance by phone at (818) 507-9123 or toll free at (888) 334-6344 or online. We're located at 121 W Lexington Dr, Glendale, CA 91203.