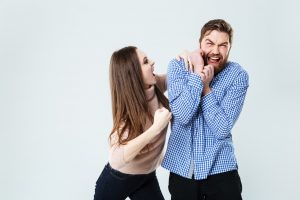 In 2014, noted female soccer star Hope Solo was arrested and charged with two counts of domestic violence assault charges against her half-sister and 17-year-old nephew. That same year, singer Solange (sister of Beyoncé Knowles) was caught on video violently attacking her brother-in-law Jay-Z.
These stories grab our attention, not just because of the celebrities involved, but because they point out the rare occasions in which we hear about women committing some sort of domestic abuse.
When we think about domestic violence, we typically presume the perpetrator is a man and the victim is a woman. And with good reason: The overwhelming majority of DV cases involve a male perpetrator and a female victim. However, some women can be as violent as men when it comes to their relationships, and some believe the number of women who commit domestic violence is significantly underreported. Let's take an overview of this often-overlooked issue to see what we can learn.