In the United States, an average of 20 people a minute suffer physical abuse at the hands of a spouse or an intimate partner. That's equal to more than 10 million men and women each year, according to the National Coalition Against Domestic Violence. Although intimate partners of both sexes suffer abuse, the majority of those abused are women; every nine seconds in the U.S., a woman is assaulted or beaten.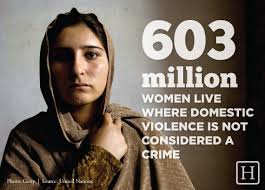 But domestic violence includes more than physical abuse. The U.S. Department of Justice' Office on Violence Against Women defines it as "a pattern of abusive behavior in any relationship to gain or maintain power over another intimate partner. Domestic violence can be physical, sexual, emotional, economic or psychological actions or threats that intimidate, manipulate, humiliate, isolate, frighten terrorize, to coerce, threaten, blame, hurt, injure or wound someone."
What causes someone to inflict this kind of pain on the people they are supposed to love the most? Writing on medicinenet.com, Dr. Roxanne Dryden-Edwards notes that domestic abuse can involve partners of all races, religions, socioeconomic status and sexual orientation. But certain risk factors do appear to be associated with domestic violence, including lack of a high school education, poverty, witnessing family violence as a child and attitudes of male domination.