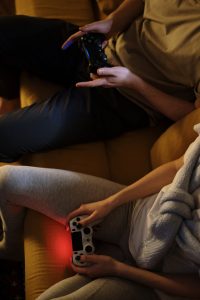 Video games have fascinated us ever since they were invented. In an age where these games are becoming more and more sophisticated and realistic—and frequently violent—a gnawing question is resurfacing in the public debate, especially considering the spike in both domestic and mass violence in recent years. Is there a link between violent video games and an increase of real-world violence? Or, to put it closer to home, if you play violent video games, are you more likely to commit domestic battery toward your spouse or partner?
This is a question that has been debated for many years, with no clear answer. Some people believe that playing violent video games can desensitize players to the horrors of violence, making them more likely to commit acts of violence themselves, both in and out of the home. Others argue that there is no evidence to support this claim and that playing violent video games does not cause people to act violently in real life. The argument plays out everywhere, from coffee shops to Congress.
So, what do the experts say? Unfortunately, there is no clear consensus. Some studies have found a correlation between playing violent video games and increased aggression, while other studies have found no such link. It is difficult to say definitively whether or not there is a causal connection between playing violent video games and committing acts of domestic violence. Nevertheless, let's take a closer look at this question to see what we can learn.