Changes to California's DUI laws can affect hundreds or even thousands of drivers accused of DUI in Los Angeles.
To that point, consider the big legal dust up currently transpiring in the Show Me state. Missouri legislators recently ended their 2016 legislative session without addressing a typo in regulations regarding calibration of breathalyzers used to measure blood alcohol content. The regulations, written by the state's Department of Health and Human Services, should have read that breathalyzers had to be calibrated to 0.10 percent, 0.08 percent OR 0.04 percent.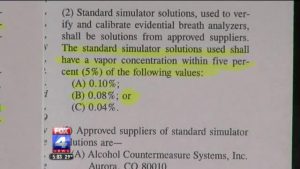 Instead the regulations said that the calibration had to be to 0.10 percent, 0.08 percent AND 0.04 percent.
The regulations were in effect from December 30, 2013 until April 2014, when the DHHS corrected the error. Missouri's Supreme Court ruled that drivers charged with DUI during that time could get their breathalyzer results thrown out as evidence, if the instrument had not been calibrated at all three levels.
According to local reports, however, the court suggested a way that the state legislature could fix the issue. While the Missouri Senate and the Missouri House of Representatives had actually both passed laws to that effect, these different bills were never reconciled.