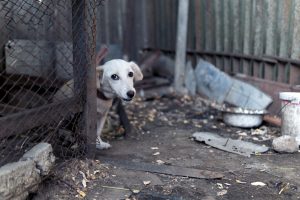 There's a technique frequently used in Hollywood during character introductions in movies and TV shows to subtly inform the audience as to whether that character is a "good guy" or a villain: depict how they act around animals. If the character is shown being kind and loving to their pet, we trust and empathize with them; if the character is mean to animals, we know not to trust them. One of the most poignant examples is in the opening scene of the Netflix series House of Cards, during which Frank Underwood rushes to the aid of a dog that has just been struck by a car, and, while talking directly to the camera, calmly chokes the dog to death. (Not pictured, of course.) We immediately know from this scene that we're looking at an extremely dangerous man.
This storytelling technique works because we instinctively understand that there is a connection between how someone treats animals and how they will treat humans. As it turns out, it's more than just a feeling. Numerous studies have indeed confirmed a link between cruelty to animals and domestic violence. In one study of women in abusive relationships who had pets, 89 percent of them reported their violent partner harmed or killed their pet, as well. In another, 88 percent of homes where child abuse was being investigated also showed signs of animal abuse. A third study concluded that people who are cruel to animals are five times more likely to harm other humans.
In short, many authorities and domestic violence advocates now confidently state that if someone is abusive toward animals, it's an indicator that they either have been or will be prone to committing acts of domestic violence. Let's explore this connection in a bit more detail to see what we can learn.