Packers Tight End Busted for Southern California DUI
Last Monday, Green Bay Packers tight end Spencer Havner was arrested for driving under the influence in Southern California, after he crashed his motorcycle in his hometown of Grass Valley, California. According to a report issued by the California Highway Patrol, the hometown hero had been zipping around on a cul-de-sac on his motorcycle (without wearing a helmet) when he flew off a shoulder and got into an injury accident.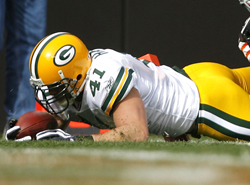 A spokesperson for the police said Havner was taken to Sierra Nevada Memorial Hospital for examination. Havner suffered cuts, lacerations, and a fracture to his shoulder blade. At the hospital, he was tested and found to have a BAC level above the California limit of 0.08%. He was arrested and moved to Sutter Roseville Memorial Center.
The 27-year-old tight end had been a standout for the Packers this past season — in one of the Packers' final playoff games, he caught a touchdown pass that tied the game.
Havner is fortunate, in that his DUI accident did not lead to any injuries to other people. According to California Vehicle Code Sections 23153(a) and 23153(b), if you hit someone while driving under the influence in Long Beach (or elsewhere in Southern California), your simple misdemeanor charge could be elevated to a felony count. This is a much more serious charge. It could result in longer jail time, harsher probation, steeper fines, and the loss of the right to vote.
Of course, the law is nuanced. If you hit someone while DUI in Long Beach (or elsewhere), but you can show that you had not been doing anything illegal, driving-wise, you may NOT be charged with a felony and may be able to get off with a simple misdemeanor. For instance, let's say a pedestrian darted in front of your motorcycle, and you hit him. Although you may have technically been driving under the influence in Southern California when you hit him, since the pedestrian was at fault for the accident, you likely would NOT be charged under California Vehicle Code Section 23153(a) or 23153(b).
Any charge of Long Beach DUI is a serious one.
If you or a family member has been arrested for Southern California DUI, it may behoove you to connect with an experienced defense attorney to learn more about your rights and obligations under the law.

One of the finest Los Angeles DUI attorneys working today is Michael Kraut of the Kraut Law Group. As a regular news commentator, Harvard Law School attendee, and former prosecutor for the city of Los Angeles, Attorney Kraut brings a wealth of knowledge and passion for the law.
If you have been arrested for a DUI in Long Beach or you are under investigation for driving under the influence in Southern California, please contact Los Angeles criminal defense attorney Michael Kraut for 24/7 assistance by phone at (323) 464-6453 or toll free at (888) 334-6344 or online.