DUI Is Least of Naked Driver's Problems
Excessive drinking can reduce inhibitions, so when police officers pick someone up for a Los Angeles DUI, they probably aren't too surprised if they find the suspect has shed a few items of clothing along the way. But police officers in Waukesha, Wisconsin, were startled when they finally caught up with a DUI suspect after a high-speed chase and found that he had taken everything off.
According to TV station Fox 6, Leif Erickson crashed through a chain link fence enclosing a parking lot on the night of August 11th. Unfortunately for him, two police officers had parked their squad cars on the lot, and Erickson hit one of them. The 21-year-old Erickson ignored the officers' commands to stop, backed out of the fence and took off, hitting speeds up 70 mph. He ran stop signs and hit curbs repeatedly as he attempted to evade police.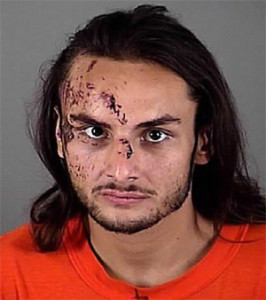 Erickson did brake hard for one stoplight, which sent his vehicle into a 180-degree spin. An officer attempted to stop him, but Erickson accelerated towards him and his squad car. The chase continued, this time reaching speeds up to 90 mph, before Erickson took a turn too fast, flipped the car and went airborne. He managed to climb out of his car, however, and that's when the police discovered he was nude. They managed to subdue him after shooting him with a bean bag round (instead of deadlier bullets).
Police charged Erickson with a first offense of operating while intoxicated, since he admitted to them he had taken two hits of acid a few hours before. But he's also looking at more serious charges. They include three felony counts of reckless endangerment, one count of hit and run causing injury, one count of fleeing and eluding and one count of felony heroin possession.
Yikes.
As a frequent contributor to respected media, like The New York Times, The Los Angeles Times and Good Morning America, Los Angeles DUI attorney Michael Kraut of the Kraut Criminal & DUI Lawyers understands what it takes to build successful defenses in complex DUI cases. Contact him and his team today to schedule a consultation.
Have you been arrested for a DUI in Los Angeles? If so, please contact DUI defense attorney Michael Kraut at (323) 464-6453 or online. Our building is located at 6255 Sunset Boulevard, Suite 1520, Los Angeles, California 90028.