DUI Drivers Who Demand Attention – Setting Off Fireworks Is Not a Way to Lay Low
Intoxicated drivers trying to avoid charges of DUI in Los Angeles should always try to avoid calling attention to themselves. If they attract the eye of a police officer, a pedestrian or another driver, they may find themselves spending several hours in jail. One man in California and two men in Delaware learned this lesson the hard way.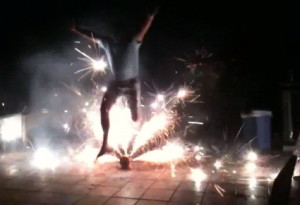 In San Manteo County, California, 25-year-old Daniel Moran probably couldn't have found a better way of getting the police to come to him. When he set off fireworks around quarter to four in the morning of October 3rd, neighbors complained to authorities because they thought someone was shooting a gun. When sheriff's deputies arrived they found that Moran didn't have a gun, just fireworks. But they claimed he was intoxicated and driving under the influence and charged him accordingly.
In Newark, Delaware, police officers found 57-year-old John R. Owens passed out in a school bus parking lot. Owens had driven his Dodge Caliber into the parking lot of the First Student Transportation bus yard and hit one bus before exiting the yard. Apparently not satisfied with this first attempt, he drove back into the yard, hit a fence, and promptly passed out. Although Owens wasn't injured in the crash, emergency medical personnel had to remove him from the car. They then transported him to the hospital to get checked out.
Getting arrested for DUI appears to be a habit for Owens; it was the seventh time he's been up on these charges.
Meanwhile, in the southern part of the state, Samuel E. Pu Tzoy hit a Jeep Cherokee—causing it to flip several times—before crashing into the rear of a Lewes Police Department vehicle. Pu Tzoy got a great deal of attention thanks to this accident, and he now faces a great many charges. They include vehicular assault, driving under the influence of alcohol, leaving the scene of a collision resulting in injury, failure to stop at a stop sign, driving without a valid license, disregarding a police officer's signal, reckless driving and other traffic offenses.
Designing and executing an effective defense against DUI charges (even simple ones) is not intuitive. Fortunately, you can trust the seasoned, highly successful Michael Kraut. Call a DUI lawyer in Los Angeles with nearly two decades of experience.

Did you get arrested for a DUI in Los Angeles? If so, contact Los Angeles criminal defense attorney Michael Kraut for assistance by phone at (323) 464-6453 or online. We're located at 6255 Sunset Boulevard, Suite 1520, Los Angeles, California 90028.