How DUI Convictions Differ for Underage Drivers: Lessons from the Arrest of 18 Year Old, Hope Brown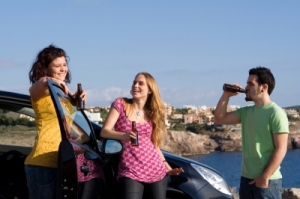 A Los Angeles DUI conviction can result in severe penalties to drivers over 21. However, individuals who are under the legal drinking age can face even greater legal, social and emotional consequences for driving under the influence.
A Woodridge, IL teenager is learning this lesson the hard way.
On September 14, police arrested eighteen-year-old Hope Brown after an alleged DUI-related "joy ride" resulted in property damage. The young woman apparently lost control of her Mustang while driving south in a residential area. Per news reports, after she struck multiple parked cars, Brown veered into a front yard, where she hit a vehicle in the driveway before colliding with the house itself. The impact further damaged another car in the garage.
Brown fortunately sustained only minor injuries during the accident, but she did require medical treatment. Authorities released her after she posted bail, and she will appear in court on October 21.
What Happens When Underage Drivers Get Arrested for DUI?
In many states (including California), individuals under the legal drinking age face a distinct legal process after a DUI arrest. This process differs from the process that a driver over 21 must face in several important ways:
•    Automatic license suspension. Any underage DUI conviction comes with a license suspension of one year. If you don't already have a license, you will be unable to receive one for an additional year.
•    Zero tolerance. Drivers of legal drinking age must stay within the BAC threshold of 0.08%, but those under 21 can face serious penalties even for testing at a very low blood alcohol level — just 0.01% or higher.
•    Additional penalties. Besides the required civil repercussions, underage drivers with 0.08% or higher blood alcohol levels are also subject to the state's regular DUI consequences, such as jail time, fines, probation, and alcohol classes.
If you are under 21 and you face DUI charges — or if you're a concerned parent or friend of a minor accused of underage DUI — call Los Angeles DUI attorney Michael Kraut of the Kraut Criminal & DUI Lawyers. Attorney Kraut can work with you to craft a strong, strategic defense to protect your freedom, your license and your rights. Contact us today to set up a consultation.
Have you been stopped for DUI in Los Angeles, contact attorney Michael Kraut at (323) 464-6453 or online. Our team is located at 6255 Sunset Boulevard, Suite 1520, Los Angeles, California 90028.