Yikes: Driver Gets DUI with High School Students Onboard
You can be arrested for Los Angeles DUI whether you're an out-of-state tourist tooling around in a rented convertible or a homegrown Angelino driving a car you've owned since high school. However, no matter what vehicle you drive, your legal problems will be significantly compounded if underage kids or teenagers are in the car with you.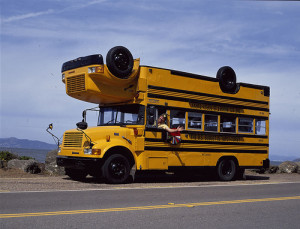 Consider the following situation out of Tennessee. Police responded to a request for help from a high school band: their charter bus, parked in front of a museum, apparently had a problem with one of its tires. Allen Newcomer, 51, allegedly drove the students on a trip from California Area High School in Western Pennsylvania to Nashville, Tennessee. His passengers included members of the high school band and their chaperones–38 students (all but seven under age 18) and 17 chaperones and teachers.
As they spoke with Newcomer, Nashville police officers began to suspect that the bus driver had a problem. Their first clue? He had "an obvious amount" of white powdery substance in his nostrils.
Newcomer consented to a search, and police found a bottle of pills labeled Hydrocodone, an unlabeled bottle with two different types of pills and crushed powder, and a straw. Newcomer told police he had used the substances but not since the previous night.
Police charged Newcomer with driving under the influence, possession of drugs and possession of drug paraphernalia. The owner of the charter bus company said they knew of the driver's previous convictions for DUI (in 1999 and 2001) but maintained that he had always tested negative for drugs when working for the company; he allegedly had been one of its top drivers.
California is tough on its commercial drivers charged with DUI. Under Vehicle Code 23152, such drivers can lose their licenses for a year, making it impossible for them to earn a living. If any passenger was under 14, they could be looking at additional charges of misdemeanor child endangerment.
Do you face charges of Los Angeles DUI while driving a commercial vehicle, like a bus or a truck? The experienced, effective team at the Kraut Criminal & DUI Lawyers is standing by to provide the insightful assistance you need to construct a vigorous defense. Call to schedule a consultation.