Would You Buy a Popsicle From This Man? [Ice Cream Man DUI]
It's hard to imagine police arresting your friendly neighborhood ice cream man for a DUI in Los Angeles. However, police officers in one Oregon city had to perform that not-so-sweet duty one day in early July.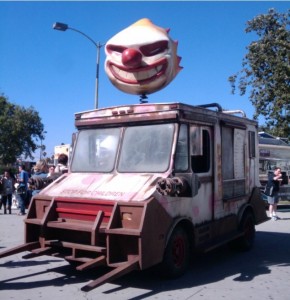 Residents of the Corneilus community had been accustomed to buying ice cream cones, popsicles and other frozen treats from Noe Andrade-Silva, age 38. They knew him by his distinctive ice cream sales vehicle, a 1994 Plymouth Voyager with a sliding door covered in colorful pictures of his products.
While neighborhood kids might have been keeping a hopeful eye out for Andrade-Silva on Friday, July 10th, adults in the area didn't like what they saw his Voyager doing on the road. They called police, reporting that the colorful van had turned into oncoming traffic and had hit a curb twice.
Police pulled Andrade-Silva over, and the ice cream man allegedly failed several sobriety tests. Officers then took him to Washington County Jail after charging him with a DUI. Fortunately, the police did permit Andrade-Silva's wife to take the van home, so that she could save the stock of ice cream treats that the vehicle carried.
In a related article on KATU.com, neighbors expressed concern about the ice cream driver operating under the influence in an area where so many children play. They thanked officers for responding so quickly and worried that, had Andrade-Silva's truck gone out of control, neighborhood kids might have suffered injury.
It's unlikely that Andrade-Silva will find many customers if he decides to return to that neighborhood. As one resident commented, "Nobody wants any DUI ice cream."
How should you respond to your recent and disarming charges? Call a qualified Los Angeles DUI defense lawyer (and ex-prosecutor) with nearly two decades of relevant legal experience.
Did police stop you for driving under the influence in Los Angeles? Contact DUI defense attorney Michael Kraut for assistance at (323) 464-6453 or online. We're located at 6255 Sunset Boulevard, Suite 1520, Los Angeles, California 90028.