Will Lamar Odom's Los Angeles DUI Break Up His Marriage with Khloe Kardashian?
It's been less than a week since Lamar Odom's Los Angeles DUI sent the blogosphere and twittersphere into a reporting frenzy.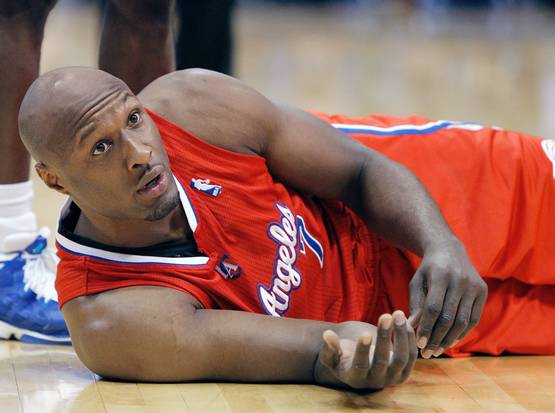 But, already, celebrity reporters and pundits are speculating on how Odom's DUI will impact his marriage to reality star Khloe Kardashian. The 29 year-old Khloe has not been keeping quiet over her marital displeasures. She confessed over Twitter: "As much as I wish I were made of steel … I am not." She then tweeted: "I'm pretty damn close to it though, hehe."
Odom and Kardashian went home in different cars on Friday, August 30th, after Odom's Los Angeles DUI arrest. Photographers have not seen Lamar or Khloe together, although one intrepid paparazzo saw Odom renting DVDs at a blockbuster in Calabasas.
The 33-year-old NBA superstar has been embroiled by private life problems, including an accident on the 101, before his August 30th DUI. Radar Online reports that Odom got kicked out of the house and had to retreat to his bachelor pad. Sources told Radar Online that the ex-Laker/Clipper "was on his way back to his bachelor pad in downtown, Los Angeles… Khloe… was [pretty likely] asleep and had no clue he left." Radar Online also reported that Odom got kicked out of the couple's mansion in Tarzana because he had an affair.
A California Highway Patrol spokesperson described additional details about Odom's DUI arrest: "Lamar Odom was driving 50 miles per hour on the 101 freeway. He was driving in a serpentine manner, which is pretty bad… Across all lanes on the freeway. I'm surprised he wasn't rear ended."
Since Odom refused to take a chemical test for DUI (such as a Los Angeles DUI blood, breath or urine test), his license was automatically suspended for a full year. Bad decisions can compound themselves – that's why it's useful to speak to a Los Angeles DUI defense lawyer ASAP.
As Odom and others arrested for driving under the influence of Southern California can attest, situations can easily go from bad to worse. During of times of turmoil, it's useful to turn to people with experience to get through your crisis.
That's why so many defendants have had such good experiences working with attorney Michael Kraut of the Kraut Law Group. Mr. Kraut is a seasoned, battletested ex-prosecutor (Harvard Law School educated) who regularly serves as a commentator for ABC News, the Los Angeles Times, and other big media to discuss news stories about DUI in Los Angeles and elsewhere.

If you have been arrested for a DUI in Los Angeles or you are under investigation for driving under the influence in Southern California, please contact Los Angeles criminal defense attorney Michael Kraut for 24/7 assistance by phone at (323) 464-6453 or toll free at (888) 334-6344 or online.