Will Beverly Hills DUI Defendants Like or Loath TLC's New Show "DUI"?
Perhaps you already follow the latest Beverly Hills DUI news in the tabloids or on the blogosphere. Or maybe you stick to more "serious" sources of DUI news, such as news reports or even professional analyses of DUIs.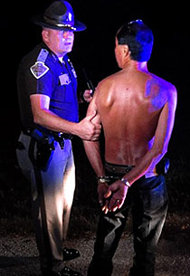 But even if you scour all these sources, you will come up with a rather superficial understanding of what's like to be a Beverly Hills DUI defendant, and you may not learn much meaningful information to:
A) Help you avoid getting into DUI trouble in the first place;
B) Help you understand what to do (and more significantly, what not to do) after you've been pulled over for driving under the influence in Beverly Hills or elsewhere in the Southland.
Fortunately, you now have a novel way to "pull back the curtain" and see what Beverly Hills DUI defendants really experience.
The TLC Network launched a new show last week called "DUI" in the spirit of reality TV shows like Cops and Jail. Reviews for the show generally have been positive. The Washington Post's blog called the show "irresistible" and discussed how the show is interested in going deeper – actually following motorists "after they failed sobriety test… days and weeks into court appearances and the punitive phase of their charges."
The Washington Post review also said that "What's emphasized here are the disastrous financial and personal losses that come for everyday working folks arrested for DUI. Granted, they should never have been behind the wheel, but "DUI" is surprisingly uninterested in MADD-style scolding and more focused on legal process. It's also refreshingly empathetic to everyone involved."
This last point is absolutely crucial, and it is also wonderful.
It's so easy in today's world – where we're berated with twitter-esque headlines 24/7 – to demonize people, judge them, blame them, categorize them, etc. Instead, we can learn a lot more – and protect our roads a lot better – if we focus on empathy. What feelings did you feel when you were pulled over for driving under the influence in Beverly Hills? How could your needs have been met differently that evening? Unless we ask questions like this – probing to the heart of the problem – our punishments are going to be superficial, relatively useless, and certainly damaging to defendants.
If you've been struggling with a DUI charge – fretting about what might happen to your license, your job, your pocket book, or even your freedom – you likely need the assistance of a qualified and highly experienced Beverly Hills DUI defense attorney. The Kraut Criminal & DUI Lawyers (9107 Wilshire Blvd., Suite 450, Beverly Hills, California 90210 Phone: (310) 550-6935) is dedicated to providing empathetic, substantial, and powerfully strategic services for defendants. Connect with the former Deputy DA and Harvard Law School educated Attorney Kraut today to explore the most effective solution for your DUI problems.

If you have been arrested for a DUI in Beverly Hills or you are under investigation for driving under the influence in Southern California, please contact Los Angeles criminal defense attorney Michael Kraut for 24/7 assistance by phone at (323) 464-6453 or toll free at (888) 334-6344 or online.