Want to Make Your Burbank DUI Charges Worse? Bite a Police Officer, Like This 27-Year-Old Woman Did.
Hopefully, we can safely assume that you did NOT bite the police officer who arrested you for driving under the influence in Burbank.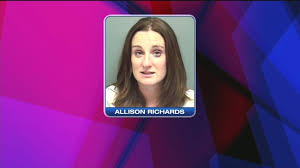 But not every driver has that level of restraint!
Believe it or not, two major recent news stories involved drivers who bit people while getting busted for DUI.
For starters, let's take a second look at the DUI arrest of former USF football star, Terrence Mitchell, who bit an EMT, after officers found him passed out in front of his car. The Tampa Bay Times summarizes the blow by blow: "while being evaluated by Tampa Fire Rescue personnel, Mitchell 'became agitated'… and "twice attempted to bite an EMT [against the will of the EMT]…. Mitchell [later] admitted to police that he had consumed alcoholic beverages, was feeling its effects and 'that he should not have been on the road.'"
But Mitchell's spectacular story pales in comparison to the charges against 27-year-old Allison Richards of Connecticut.
Richards was arrested on August 13th for a variety of charges, including DUI, failure to signal, breach of peace, interfering an arrest, and – most vividly – assault on a police officer.
Here's how it all went down.
Richard's 2005 Subaru Legacy hit a lawn on Hollow Tree Road. Police found Richards standing by the vehicle, exhibiting signs that could indicate DUI in Burbank (or elsewhere), such as slurring her words. Inside the Subaru, officers found a six pack of beer with a bottle missing. Richards said that she was shopping at Lord & Taylor. She then took her son home and began to consume alcohol. She could not remember how she wound up on Hollow Tree Ridge Road.
Once the police moved to arrest her for DUI, things got heated – fast.
First, allegedly Richards stripped off her shirt and started cursing at the police. When the officers tried to subdue her, she lashed back by punching and kicking. Once they got her into the car, she continued with her tantrum, bashing at the partition with her feet. When they got to the police station, she wouldn't get out. Eventually, they yanked her free and took her inside to be processed. Richards continued to try to strip off her clothing, and she bit one of the officers on the elbow. Eventually, police had to carry her to her cell, where she was held on $2,500 bond.
Something about Burbank DUI arrests bring out the "inner animal" in some people. Not everyone reacts to being arrested the same way. Some people are calm and cooperative. Others activate the "flight" part of the "fight or flight" response and try to leave the scene of the crime. (a big no-no, particularly if you hurt someone or caused property damage.)
The reality is that being arrested is a foreign, terrifying, and uncertain experience. Very few people leave their homes thinking "today is the day I am going to be arrested!" It certainly doesn't help matters that many people stopped for crimes like DUI are on controlled substances, like alcohol, drugs, or prescription medications.
The silver lining is that, no matter what charges you face, you may have major legal defenses available to you. Connect with the Kraut Law Group to explore your defense options now. Mr. Kraut is a former Harvard Law School educated ex-prosecutor; he and his team have the wherewithal and knowledge to build you a very effective Burbank defense to DUI.

If you have been arrested for a DUI in Burbank or you are under investigation for driving under the influence in Southern California, please contact Los Angeles criminal defense attorney Michael Kraut for 24/7 assistance by phone at (323) 464-6453 or toll free at (888) 334-6344 or online.