Long Beach DUI Sports News: Terrence Mitchell and Geno Smith, 2 Promising College Football Players, Busted in Separate DUI Incidents.
As someone who was recently stopped and arrested for DUI in Long Beach, you're probably more sympathetic than most people when you read about sports figures and celebrities busted for DUI and driving without a license. These tabloid-like stories can teach good lessons, if you take the time to understand what happened and why.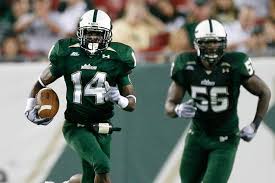 Consider two recent DUI arrests that have shaken up the college football world.
The first involves Geno Smith, a cornerback for Alabama, who was arrested on August 18 for DUI and later released on $1,000 bond. Smith's coach, Nick Saban, put out a statement the next day: "this is obviously not the kind of behavior we expect from our players… I don't have all of the details at this point and will handle it appropriately once I've had a chance to review the information."
Smith was a four star recruit for Alabama.
Meanwhile, more serious news out of University of South Florida, where 23-year-old Terrence Mitchell was busted by Tampa police for DUI at North 30th Street and Bougainvillea Avenue. News sources report that he blew a 0.165% and 0.171% on two breathalyzer tests – more than twice the legal limit for Long Beach DUI or DUI in Florida. On top of that, he was driving with a bad license, and he faces charges that he assaulted a firefighter (bit the man! – more on that in our next post!).
This has been difficult year, legally speaking, for the 23-year-old, who was arrested for possession of marijuana (a misdemeanor) back in March. Mitchell once had a promising career. In 2010, The Tampa Tribune named him "male athlete of the year." As a freshman, he was an All-American.
Mitchell had been in a six-month intervention program, after his misdemeanor offense.
Lessons for Your Long Beach DUI Arrests
Fortunately for both of these young men, their DUIs did not involve serious injuries to themselves or other people – or serious property damage. Unfortunately, early DUIs can be signs of future problems.
Even if you construct an effective defense to DUI in Long Beach charges – and avoid serious jail time, intense probation, an interlocking ignition device (IID) in your vehicle, and so forth – you still face longer term issues. Recidivist offenders (repeat offenders) can be charged quite harshly, per Long Beach DUI law. For instance, if you're convicted three times within 10 years – and your third offense would normally just be a misdemeanor – prosecutors can automatically elevate your charge to a felony. That could mean a jail sentence of over a year.
For help planning what to do next, get in touch with the team at the Kraut Law Group. Mr. Kraut racked up a 99%+ record at jury trials as a prosecutor, and he maintains excellent relationships with judges, prosecutors and police officers in the Los Angeles court system.

If you have been arrested for a DUI in Long Beach or you are under investigation for driving under the influence in Southern California, please contact Los Angeles criminal defense attorney Michael Kraut for 24/7 assistance by phone at (323) 464-6453 or toll free at (888) 334-6344 or online.