Hollywood DUI Update on Linda Hogan's Case: Hulk's Ex-Wife Finally Pleads Guilty to DUI Charges
Breaking Hollywood DUI news — Linda Hogan, ex-wife of WWE Star, Hulk Hogan — has plead guilty to charges that she drove on the influence in October 2012.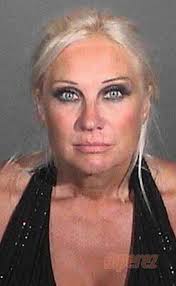 The reality star had publicly and vigorously claimed innocence, asserting that she "had only drunk one glass of champagne," before police stopped her on the westbound 101 in her black Mercedes Benz. At the time, her BAC tested at 0.084% — just over the legal limit for Hollywood DUI (0.08%), per CVC 23152(b).
In exchange for Hogan's guilty plea, prosecutors agreed to drop one of the two misdemeanor DUI charges against her. She also got three months of alcohol classes and three years of probation.
Hogan (whose real last name is Bollea) starred with the Hulk (a.k.a. "Terry Bollea") in the short-lived but much gossiped-about reality show, Hulk Knows Best. Their show – and marriage – ended in 2007. Linda then commenced a relationship with a 23-year-old, Charley Hill. They briefly got engaged, but then broke it off.
One reason why Hogan's arrest caused so much ruckus in the blogosphere is that it coincided with the release of Hulk Hogan's sex tape on YouTube. The 59-year-old Hogan was filmed performing a sex act with Heather Clem, former wife of DJ Bubba The Love Sponge, Hulk's best friend.
Linda expressed shock about the sex tape. She said she found it "a little twisted," especially because the Hogans, Clem and Bubba the Love Sponge had all been close friends.
So essentially: private and public theatrics galore.
Of course, if you've recently been arrested for DUI in Hollywood, you're probably less interested with the tabloidy exploits of realty stars and wrestlers then you are with building a sound and rigorous defense. After all, Hollywood DUI charges – even first time charges – can be punished with jail time, probation, license suspension, mandatory alcohol school, compulsory interlock ignition device installation, fines, fees, and more.
To build an intelligent, energetic defense, talk to the team here at the Kraut Criminal & DUI Lawyers today. Mr. Kraut is a former prosecutor with 14 plus years experience on the "other side," and he can adeptly represent Southern California criminal defendants.


If you have been arrested for a DUI in Beverly Hills or you are under investigation for driving under the influence in Southern California, please contact Los Angeles criminal defense attorney Michael Kraut for 24/7 assistance by phone at (323) 464-6453 or toll free at (888) 334-6344 or online.