Terrifying Video of Los Angeles DUI Crash Percolates through Internet
KTLA news in Los Angeles has reported that two different people have been booked on separate charges of suspicion of Southern California DUI following a videotaped late-night crash on the 10 eastbound near the 110 freeway. According to CHP reports, the incidents occurred early Friday morning (2 AM) in rapid succession.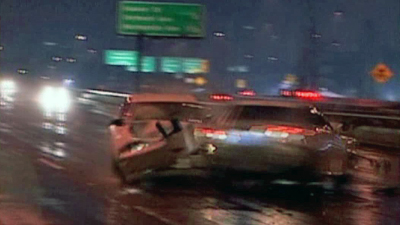 The first incident involved a woman in a white Lexus who was pulled over in the rain: there was nothing extraordinary or unusual about her stop. However, subsequently, a freelance photographer who had been on the scene videotaped a second driver career into the stalled Lexis. The backseat passenger in this second vehicle was taken to a local hospital for minor injuries. Fortunately, no one was severely hurt in the crash. However, the harrowing footage made KTLA morning news and became a viral video sensation — attracting thousands of hits within hours of its posting online.
You can see the video of the crash here.
If news reports are accurate, the driver of the second vehicle could be charged with felony DUI, according to California Vehicle Code Section 23152 (a), which stipulates that a DUI count that would ordinarily constitute a misdemeanor can be elevated to a felony charge if the prosecution can show that:
a) the driver had a BAC of 0.08% or more;
b) the driver had been negligent or had been violating Glendale's DUI traffic laws;
c) the passenger received his injuries as a direct result of the accident.
Punishments for Los Angeles DUI with injury can range from license suspension to prison time to fines and can depend on a number of factors, including the severity of the injuries and the degree of negligence.

If you have been arrested for a DUI in Glendale or you are under investigation for driving under the influence in Southern California, please contact Los Angeles criminal defense attorney Michael Kraut for 24/7 assistance by phone at (323) 464-6453 or toll free at (888) 334-6344 or online.
If you or a friend has been charged with injury DUI in Southern California, you may need the assistance of attorney Michael Kraut of the Kraut Criminal & DUI Lawyers to manage your legal concerns. Attorney Kraut stands out from the pack for number of reasons:
#1) He attended Harvard Law School;
#2) He served for 14 years as a prosecutor for Los Angeles, during which time he prosecuted an array of Southern California DUI matters;
#3) He is well regarded throughout his field as an expert in criminal defense;
#4) He has appeared as a guest commentator on places like BBC News and Fox News.
#5) He has demonstrated time and again an ability to deliver excellent results for his clients — even in strategically complicated matters.