From Shootings to Los Angeles DUI Arrests, Cops and Witnesses Don't Always Get It Right
A recent shooting of an unarmed homeless man by members of the Los Angeles Police Department shows why it's essential that anyone who is arrested for a Los Angeles DUI get good legal representation right away. Police officers can make mistakes, and eyewitnesses don't always see or hear everything that really happened.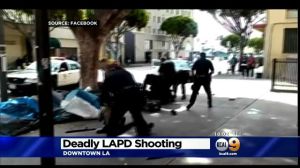 Nobody disputes the basic facts of a recent Los Angeles shooting. On March 1, a homeless man (later identified by the nickname of Africa) was killed during a struggle with four police officers. The man was on the ground when the shots were fired.
The police department said that the officers had already tried to subdue the man with a taser, and it hadn't worked. Then the man had grabbed a gun from one of the officers during the arrest, and that's when the other officers opened fire. The eyewitness claimed that he didn't see that grab and questioned the cops' decision to shoot an unarmed man who was already tased and on the ground.
But the whole incident was caught on a nearby surveillance camera, and CNN had a forensic expert look at the footage in slow motion. His analysis suggests that the man did indeed reach for the gun. Surveillance footage also showed that the man had been involved in a violent struggle with another homeless person earlier in the day.
So what really happened that day? Different people on the scene–all believing that they are telling the truth–will give you varying answers. It's going to take a while to sort it all out.
The same thing can happen when somebody is arrested for DUI. No matter what the police and other bystanders think they saw, the truth may be something different–and it's a good idea to have someone who understands all the legal ramifications available to help.
As a frequent contributor to respected media, like The New York Times, The Los Angeles Times and Good Morning America, Los Angeles DUI attorney Michael Kraut of the Kraut Criminal & DUI Lawyers understands what it takes to build successful defenses in complex DUI cases. Contact him and his team today to schedule a consultation.
Call attorney Michael Kraut at (323) 464-6453 for help if you've been stopped for DUI in Los Angeles. Or Contact our team online. We're located at 6255 Sunset Boulevard, Suite 1520, Los Angeles, California 90028.