Racy Beverly Hills DUI Story – Katrina Darrell, Bikini Girl on American Idol, Busted for DUI and Hit and Run
Last week was a shockingly salacious week for Beverly Hills DUI news. For instance, online gossip site, TMZ.com, broke a story that sent American Idol trivia fans into a tizzy. Apparently the "bikini girl" from the 2009 American Idol competition season – aka Katrina Darrell – was hit with some serious DUI charges. The situation sounds pretty intense for Ms. Darrell. If convicted, she could face two full years in jail!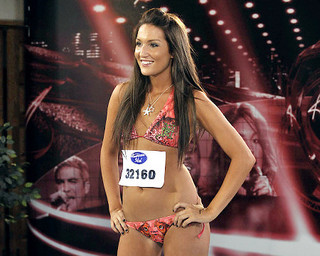 Police claim to have seen Darrell flee from the scene of an accident; they then pulled her over. She proceeded to take a breathalyzer test at the police station and blew 0.15% and 0.17% BAC readings. Those are pretty high readings – potentially more than double the standard Beverly Hills DUI limit of 0.08%.
Of course, it's easy to read celebrity news reports like this and leap to conclusions about the defendant's rightness or wrongness. Certainly, her history on American Idol suggests that she is not averse to taking risks and behaving a little wildly. But just because the DUI story seems to fit the "wild party girl" narrative that's developed around her does NOT necessarily mean that it holds the whole truth – or even a shred of truth.
As with every Beverly Hills DUI arrest, there can always be complicating factors — factors that can make a situation significantly more or significantly less legally perilous. Until you really dive into a case, look at the evidence, explore statements, take a look at how the police did their work, examine the Beverly Hills DUI breathalyzer test results and field sobriety tests, etc, etc, you are going to be at a significant disadvantage.
After consulting with an attorney here at the Beverly Hills' Kraut Law Group (8484 Wilshire Boulevard Suite 660B Beverly Hills, CA 90211-3220 Phone: (310) 550-6935), you'll likely have far more clarity about your situation. Although no attorney can promise results in a case, attorney Kraut has earned a massive recognition from his legal peers. He's worked as a successful prosecutor and a successful defense attorney. He has the connections, know-how, detailed understanding of the law, and in-firm processes and systems to get you results.

If you have been arrested for a DUI in Beverly Hills or you are under investigation for driving under the influence in Southern California, please contact Los Angeles criminal defense attorney Michael Kraut for 24/7 assistance by phone at (323) 464-6453 or toll free at (888) 334-6344 or online.