Glendale DUI Ridiculousness – East Haven CT Women Crashes into Liquor Store for Possibly DUI
The typical Glendale DUI stop is pretty tame by objective measures. An outside observer might, for instance, see you get stopped at a check point and pass through an array of field sobriety tests and then get cuffed and taken away. Not that much excitement.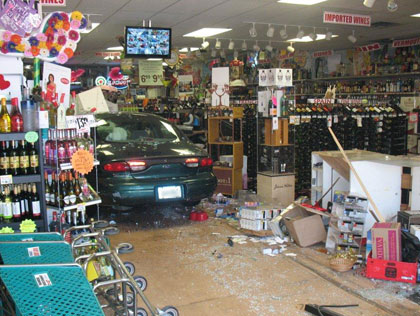 But some examples of DUI are shocking, unusual, and packed with coincidences.
Last week, for instance, a 63-year old woman, Sharon Brooks, careened into a local liquor store (which she frequented!) and smashed the shop up in a major way. The accident occurred at 2:30 p.m. in East Haven at the Yankee Discount Liquor on Foxon Road. According to local reports, the car drove "halfway into the store" and caused not only property damage but also injury to a store worker that was significant enough to require his hospitalization.
As regular readers of this blog know, if you injure someone while driving DUI in Glendale, you can be subjected to charges under California Vehicle Code 23153(a) or 23153(b) – charges which carry significantly more "heft" than do standard misdemeanor Glendale DUI charges per CVC 23152 (a) or 23152(b).
In any event, Ms. Brooks said that she had "a cold" and had taken Nyquil prior to the accident. She also said that she just gotten her car detailed and that her foot slipped off the brake due to the slippery Armor All treatment. Brooks told the reporters "I never had the whole inside of my car cleaned before and this time I did so it would look really nice, and my foot slipped off the brake."
Will Brooks' various defenses hold water? That remains to be seen. But before you judge either way, understand that most charges of driving under the influence in Glendale (or wherever) often hold subtle secrets – evidence that can help/hurt both sides.
The point is that, if you have been charged with the crime like this, you really put yourself at a huge disadvantage if you fail to connect with a Glendale DUI defense attorney, such as the Kraut Criminal & DUI Lawyers' Michael Kraut (121 W Lexington Dr, Glendale, CA 91203 Phone: (818) 507-9123). A great attorney can explain your charges in context, help you construct an appropriate response, and deal with the nagging questions and concerns you have along the way. You can feel more focused, put up a stiff defense to the charges, and feel less anxiety about what's going to happen to your car, your driver license, and your future.

If you have been arrested for a DUI in Glendale or you are under investigation for driving under the influence in Southern California, please contact Los Angeles criminal defense attorney Michael Kraut for 24/7 assistance by phone at (323) 464-6453 or toll free at (888) 334-6344 or online.