Pasadena DUI Quiz (Part I) — 10 Cases (Made up or Real)?
Pasadena DUI arrests can get dramatic and colorful. But you probably think you can "tease apart" fact from fiction. Well, let's test your mettle. Here are 10 DUI items – 5 of which are made up, 5 of which actually happened. What's true? What's made up? (Answers are at the bottom).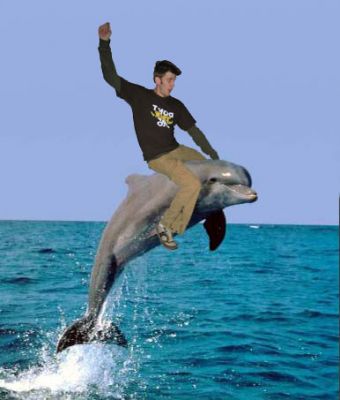 Good luck!
1. Waxwing birds became wickedly intoxicated, after they ate fermented Scandinavian berries. Dozens of these perished as they "flew DUI" into local windows.
2. Two men in England broke into a dolphin sanctuary and wrestled down a dolphin and road it around while under the influence of alcohol. Local police in Kent arrested them and charged them with the local equivalent of DUI.
3. A hipster unicyclist in Brooklyn intentionally consumed an entire bottle of Vodka before performing a street act on his unicycle on a busy street. Several police officers watched him do this. Instead of arresting him, they clapped and cheered with the other passersby.
4. A man commandeered a Christmas float while under the influence of alcohol. He smashed into a second float, battled officers, and hit another float before police apprehended and arrested him. In addition to DUI, he got gobsmacked with three dozen criminal charges.
5. As part of a hazing prank, 12 freshman rushes at a University of Mississippi frat crammed into a Dodge Dart. Police saw the swerving vehicle on a local campus road and pulled it over. The unlucky freshman driver had a BAC of 0.38% — over 4.5 times the legal limit for DUI in Pasadena.
6. In Uruguay, it's legal to drive under the influence of alcohol. In several other countries, the offence is a capital crime. Unlike here in Southern California, where a Pasadena DUI without injury is generally a misdemeanor, in some parts of the world, you can literally be put to death for DUI driving.
7. Nearly 20% of all currently serving members of the United States Congress and Senate have, at one point in their lives, been charged with driving under the influence.
8. The term "Three sheets to the wind" was coined by Teddy Roosevelt. When the ex-President toured the Amazonian jungle, he witnessed native tribesmen play a drinking game with three colorful sheets. The rest is history.
9. In Virginia beach, Virginia, if you let someone else drive your car while that person is under the influence, you can get a DUI charge, too, even if you were just standing and watching!
10. For reasons that scientists have yet to understand, lefties are far less likely than righties to get arrested for DUI, even accounting for the fact that there are fewer lefties in the population.
Need help with your Pasadena DUI defense? If so, connect with the Kraut Law Group today. Attorney Kraut is an ex-prosecutor and Harvard Law School educated attorney with a fantastic track record for helping clients like you put up a robust defense.
1. T 2. T 3. F 4. T 5. F 6. T. 7. F 8. F 9. T 10. F

If you have been arrested for a DUI in Pasadena or you are under investigation for driving under the influence in Southern California, please contact Los Angeles criminal defense attorney Michael Kraut for 24/7 assistance by phone at (323) 464-6453 or toll free at (888) 334-6344 or online.