Oh Man, Oh Man: Lindsay Lohan Arrested AGAIN: Not for Los Angeles DUI Charges This Time, But for Assaulting a Psychic in an NYC Club. Sheesh!
Back in 2007, when Lindsay Lohan collected her first and infamous Los Angeles DUI arrest, many in the Hollywood community were shocked. How could such a sweet and promising performer behave so recklessly and out of character. Alas, five years later, after racking up arrest after arrest in diverse circumstances, even Lohan's most ardent fans are beginning to wonder whether there will ever be an end to the 26-year-old's legal woes.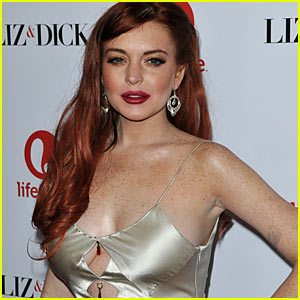 To wit, last Friday morning, Lohan got arrested yet AGAIN, this time at the New York City club Avenue, for allegedly punching psychic, Tiffany Mitchell, in the eye. The woman allegedly pursued Lohan to try to tell her fortune. Lohan first asked for space. When Mitchell kept pestering her, Lohan called the woman a "gypsy," and the two exchanged other colorful words.
Mitchell has already "lawyered up" over the assault. She hired celebrity attorney Gloria Allred. Sensing the potential impending civil lawsuit, Lohan has gone on the offensive and hired a private detective to look into Mitchell's history. Initial reports from celebrity gossips sites suggest that Mitchell may indeed have a checkered past: some of her psychic clients have allegedly come forward calling her a fraud, and she also may have had legal troubles with respect to non-payment of rent.
Lohan's situation, however, is more diverse and more dire.
The actress earned huge notoriety over her struggles with her Los Angeles DUI probation revocation. That mini-drama ended with Lohan being compelled to serve a stint in jail and do community service work at a county morgue.
Lohan earned another dubious distinction: she faced four separate criminal charges on the same day, on both coasts, including charges that she resisted a police officer, gave false info to a police officer, and engaged in reckless driving. So Lohan's legal plate is certainly full. She also received less than lackluster reviews for her performance in the made for TV movie, Liz and Dick.
A Los Angeles DUI charge is often just the tip of the iceberg
If you've been recently arrested on one or multiple or similar charges, you may be overly tempted to focus exclusively on your immediate defense and less on the long-term strategic ramifications for your life, career and health.
As a Harvard Law School educated former prosecutor who's won high praise from peers and clients alike for his work as a Los Angeles DUI criminal defense attorney, Michael Kraut understands that defendants often need more than just "nuts and bolts" help. They also need to be listened to and to get educated about how to prevent recidivism.
This is particularly key, in that, if you get hit by multiple charges of Los Angeles DUI within a 10-year period, prosecutors can rapidly escalate your charges.
Connect with attorney Kraut and his team for incisive, insightful help with your L.A. DUI charge.

If you have been arrested for a DUI in Los Angeles or you are under investigation for driving under the influence in Southern California, please contact Los Angeles criminal defense attorney Michael Kraut for 24/7 assistance by phone at (323) 464-6453 or toll free at (888) 334-6344 or online.