New Jersey Cop Kills Two Friends in Wrong-Way DUI
You'd think that police officers charged with enforcing DUI laws would learn a lesson if they got themselves arrested for a DUI in Los Angeles or some other jurisdiction. But that that wasn't the case for Pedro Abad, Jr., age 27, a six-year veteran of the Linden police department in New Jersey. He already had two DUI arrests on his record when he got behind the wheel after partying with friends on March 20th.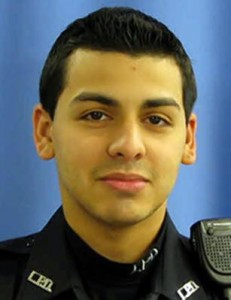 According to press reports, Abad and three friends—Linden police officers Frank Viggiano and Patrik Kudlak,, and Joseph Rodriguez, all 28 years old—were traveling in Abad's Honda after spending several hours at strip clubs in New Jersey and Staten Island. (Newday said that several hours before the crash Abad had posted on Instagram a photo of three shot glasses filled with "Jack Daniels fire on the house.")
Shortly before 5 a.m., Abad apparently drove the wrong way on a service road and then continued in the wrong direction on the West Shore Expressway on Staten Island. One 18-wheeler managed to avoid colliding with the vehicle, but another wasn't able to move out of the way in time and hit Abad's Honda head on. Viggiano and Rodriguez were killed, and Abad and his remaining passenger were admitted to the hospital in critical condition.
Abad had two arrests for DUI on his record. In January 2011, he put his car through a supermarket building in Roselle, New Jersey. The case never came to trial because Abad's attorney said the police had not sent him information that he requested. Thirteen months later—in an incident caught on police recording equipment—Abad failed a roadside sobriety test when pulled over. After that incident, the state suspended his driver's license for seven months and required him to use an ignition interlock device for four months.
Los Angeles DUI defense lawyer, Michael Kraut, of the Kraut Criminal & DUI Lawyers is standing by to offer critical insight into your case and potential defense options. Call him and his team today to begin regaining control over your case and your life.
If police stopped you for Los Angeles DUI, you may be worried and anxious. Contact Harvard Law School educated, ex-prosecutor Michael Kraut for assistance at (323) 464-6453 or online. Our team is located at 6255 Sunset Boulevard, Suite 1520, Los Angeles, California 90028.