Los Angeles DUI Suspect Charged with Smashing into Cop Car In North Hollywood
According to a CBS news report, 41-year-old Silviano Ramirez has been arrested for misdemeanor DUI with injury in Los Angeles following a late evening collision near Lankershim Boulevard. At around 9:30 PM, Ramirez — who was later tested to have a BAC level of 0.15% — attempted a non-sanctioned U-turn and plowed into a patrol car, injuring both police officers inside and giving one of them a broken nose. The cop car ricocheted into a third vehicle, sending the driver of that vehicle to the hospital with injuries.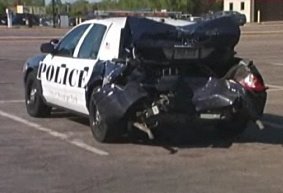 Ramirez was arrested at the scene and charged not only with driving under the influence in Los Angeles but also with driving on a suspended/restricted California license. He is scheduled to appear in Van Nuys Superior Court on Friday to face an arraignment.
You don't need a Southern California DUI lawyer to understand that crashing into a cop car while driving with a BAC of nearly twice the state's legal limit is asking for trouble. Yet although the suspect stands accused of DUI with injury, the terms of his punishment could vary substantially, depending on how badly he injured the two police officers and the other driver.
This is a key point. In most people's minds, all Los Angeles DUI injury cases "rhyme" — that is, they're all punished roughly equally. However, the law — as defined by two critical codes, California Vehicle Code Section 23153 (a) and California Vehicle Code Section 23153 (b) — stipulates a diverse set of possible punishments. To convict you of a felony injury DUI, a prosecutor must make a special and concerted effort to show the following:
* You drove under the influence of alcohol or drugs
* You drove with a BAC of 0.08% or higher (can be less if, for instance, you're under 21 years of age)
* You disobeyed a traffic law (in this case, Ramirez conducted an illegal U-turn, so that would likely qualify as a violation)
* The illegal driving act directly led to the injury in question
A superficial assessment of this Southern California DUI case suggests that the defendant may have a particularly difficult road to hoe. For one, he hit police officers. Secondly, he injured the officers. He also made an illegal U-turn. Finally, he allegedly drove while on a suspended/restricted license.
Nevertheless, a methodical and battle tested Los Angeles DUI attorney could help him craft a logical and workable defense strategy.

Many Southern California DUI suspects turn to Attorney Michael Kraut, a former prosecutor for the city of Los Angeles. He understands what arguments prosecutors and judges respond to. He also understands what not to do when drafting arguments and negotiating for his clients. Given how critical it is for you to get the best possible legal assistance, it likely behooves you to contact Attorney Kraut ASAP. If you have been charged with a Los Angeles DUI or you are under investigation for DUI in Southern California, please contact L.A. defense attorney Michael Kraut for 24/7 assistance by phone at (323) 464-6453 or toll free at (888) 334-6344 or online.