Los Angeles DUI Shocker: Rodney King Busted in Riverside County on Suspicion of DUI
Last Tuesday, a Los Angeles DUI story managed to (briefly) distract Angelinos from the imminent closure of the 405 (a.k.a. "Carmageddon"). Rodney King — the famous LAPD beating victim whose video beating, as you might remember, ignite race rights in the city and ultimately branded L.A. as a cauldron of intolerance for over a decade — got stopped by police who witnessed him committing multiple traffic violations.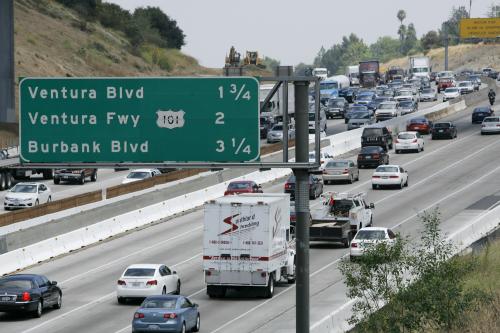 King was apparently pulled over and booked without incident. (not unlike most arrests for Los Angeles DUI, Burbank DUI, Glendale DUI, or Pasadena DUI). The 46-year old minor celebrity (he appeared on a recent season of Dr. Drew's "Celebrity Rehab") is no stranger to charges of driving under the influence in Los Angeles. In 2003, he collected a DUI. And just this March, police pulled him over one day short of the 20th anniversary of his famous taped beating for driving with an expired license.
It's unclear yet whether King was indeed violating California Vehicle Code Sections 23152(a) or 23152(b). Either way, given King's history with city law enforcement – and their history with him – even if the charges turn to be relatively mundane and King cooperates (i.e. there is no drama), you can be sure that you will be reading a lot about the aftermath of this arrest in the blogosphere. Perez Hilton, for one, published a snappy and snarky blog post about King's arrest just hours after the news broke.
Can a Los Angeles criminal defense attorney help you identify a practical and strategic way to respond to charges like DUI? Or will you be doomed to lose your license and suffer penalties like extended jail time, harsh probation terms, and massive fines and court costs, no matter what actions you take?
Truth be told, your choice of legal representation can matter tremendously. Attorney Michael Kraut (of Los Angeles's Kraut Criminal & DUI Lawyers – 6255 Sunset Boulevard, Suite 1520, Los Angeles, California 90028) provides free consultations for defendants charged with DUI in L.A. Attorney Kraut is a former prosecutor for the city – for well over a decade, he worked every day to put criminal defendants behind bars – so he understands how the prosecutors working against you think and act, and he can use his knowledge and relationships to build you a more effective defense.

If you have been arrested for a DUI in Los Angeles or you are under investigation for driving under the influence in Southern California, please contact Los Angeles criminal defense attorney Michael Kraut for 24/7 assistance by phone at (323) 464-6453 or toll free at (888) 334-6344 or online.