Los Angeles DUI for Lamar Odom: Career Ender for Former Lakers and Clippers Star?
At 3:56am this morning, Lamar Odom was stopped and arrested in the Valley for driving under the influence in Los Angeles. Odom spent over 31 hours in jail before he was released on a $14,000 bond. His court date has been set for September 27.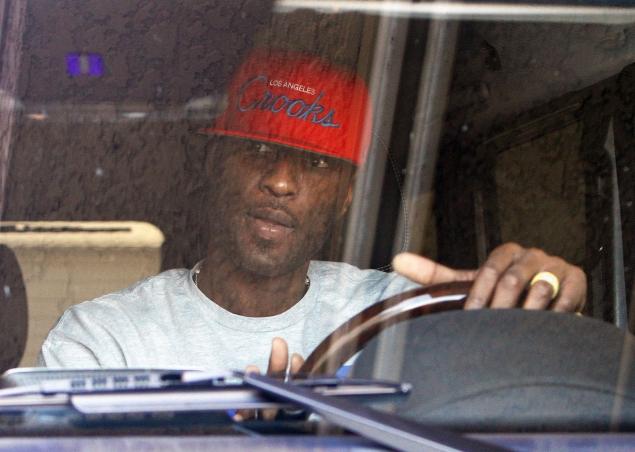 Police stopped the 6'10" forward — who played pro ball for 14 years for the L.A. Lakers and the Clippers — after officers saw his white Mercedes weaving all over the 101. Cops tried to pull him over, but he kept driving past Van Nuys and Woodman Ave. He finally stopped at Coldwater Canyon and submitted to field sobriety tests. (The "FSTs" can include balancing tests, like the stand on one leg test, as well as tests of mental acuity, like the count backwards from 100 by 3s test).
Per a CHP report, Odom didn't exactly pass his exams with flying colors:
"[Odom showed] objective signs of intoxication and was unable to perform field sobriety tests as explained and demonstrated."
Sometimes factors such as fatigue, nervousness and general lack of coordination can explain why people fail FSTs. As a pro athlete, Odom would have a hard case to make that "general lack of coordination" screwed him up on the FSTs. Of course, he HAS been struggling on the court recently. One anonymous NBA executive told the Los Angeles Times "Lamar can't play anymore." The once highly celebrated forward put up lousy numbers (for him) last year with the Clippers, "averag[ing] career lows in points (4.0), assists (1.7) and minutes (19.7)."
Since Odom refused to take a DUI breath test or DUI blood test, his CA driver's license was automatically stripped from him for a full year. If he's convicted of Los Angeles DUI, he'll face more than just the "standard" punishments for misdemeanor DUI, which can include jail time, fees and fines, mandatory DUI alcohol classes, probation, and license suspension. He'll also face possible disciplinary action from the NBA… assuming he'll be signed as a free agent, which is not guaranteed.
Days before his Los Angeles DUI stop, Odom got into a fender bender on the 101 with Adolfo Flores, a sports reporter for the L.A. Times, in the car with him.
Several months ago, he got into a major fight with a paparazzo, who had been pestering Odom about rumors that the b-ball star had been cheating on his celebrity wife, Khloe Kardashian Odom. Enraged, Odom allegedly threw a bag of the photographer's stuff onto Hollywood Blvd. (The D.A. didn't have enough evidence to file charges in this case.)
In the wake of the arrest and other off-the-field shenanigans, Odom's high profile pals from the basketball world weighed in with words (and tweets) of concerned support.
Magic Johnson, the most famous Laker of all time, tweeted: "I hope my man and former Laker, Lamar Odom is doing okay," to which Phil Jackson tweeted" "Double ditto, LO."
If you've recently been arrested for driving under the influence in Los Angeles, you probably need smart, effective legal representation to protect you against dire legal consequences (only some of which are described above.) Trust Harvard Law School educated attorney, Michael Kraut, to construct a powerful and savvy defense for you. Mr. Kraut is a former Deputy District attorney for Los Angeles (14+ years as a prosecutor) who has racked up a stellar record as a Los Angeles DUI defense lawyer. He's also a regular DUI commentator on national news programs, such as Good Morning America.

If you have been arrested for a DUI in Los Angeles or you are under investigation for driving under the influence in Southern California, please contact Los Angeles criminal defense attorney Michael Kraut for 24/7 assistance by phone at (323) 464-6453 or toll free at (888) 334-6344 or online.