Los Angeles DUI Blogs Abuzz with News of Miami Heat's Dorell Wright's Arrest
Sports commentators and celebrity Los Angeles DUI bloggers alike have been buzzing about the arrest of Dorell Wright, who was pulled over for driving under the influence in South Beach, Florida, last Thursday.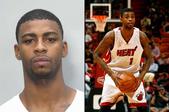 According to the Miami Herald, the 24-year-old Wright — who had been playing his best season since he had knee surgery in 2008 and who had just lifted the Heat to a 108-97 win over the L.A. Clippers – was pulled over at around 3.30 in the morning for driving erratically in his 2005 Bentley. The officers who stopped him noticed that he had red and watery eyes, odor of alcohol on his breath and slurred speech. In addition to the South Beach DUI charge, Wright was charged with speeding and driving without proof of insurance.
Wright is not the only member of the Heat team to have a hot run-in with police recently. On February 26, teammate Carlos Arroyo was pulled over for impeding the flow of traffic. Arroyo got into a kerfuffle with officers that resulted in a misdemeanor charge.
Why did the officer suspect Wright of driving DUI?
The signs of driving DUI are surprisingly universal — whether you are pulled over for DUI in Beverly Hills or DUI in South Florida.
Symptoms of Los Angeles DUI include the following:
• Bloodshot/watery eyes
• Breath that smells like alcohol
• Erratic behavior (in person and on the road)
• Incoherent story telling/logic
• Loss of balance
• Stumbling/staggering
• Slurred speech
• Belligerence towards officers
• Inability to track a moving light source (failing the "horizontal gaze nystagmus test")
• Opened containers of alcohol in the car
• Admission to having "had a few drinks"
Whether you are pulled over for driving under the influence in Hollywood in a brand new Bentley or you are stopped for DUI in Southern California in any other kind of car (or in any other kind of circumstance), the legal defense you put up can make a tremendous difference in terms of your ultimate sentence/rehab arrangement.
An excellent defense lawyer can potentially break down the prosecution's case against you by, for instance, challenging the results of a breathalyzer test that show that you were above California's legal limit of 0.08%.
So how can you find a knowledgeable and sophisticated Los Angeles DUI attorney?

Consider scheduling a free consultation with attorney Michael Kraut of the Kraut Criminal & DUI Lawyers. Why attorney Kraut? First of all, he attended Harvard Law School. Second, he worked for a long time as a Deputy District Attorney of Los Angeles — meaning that he understands how the prosecution thinks and can strategize accordingly. Third, he has extraordinary credentials and great results at trial. Fourth, he is well respected by judges and his legal peers.
If you have been arrested for a DUI in Beverly Hills or you are under investigation for driving under the influence in Southern California, please contact Los Angeles criminal defense attorney Michael Kraut for 24/7 assistance by phone at (323) 464-6453 or toll free at (888) 334-6344 or online.