Long Beach DUI Madness: News Roundup Yields DUI Goat, a 12 Time DUI offender, and More Weirdness.
Rarely do Southern California DUI stops play like something out of a bad 1980's cop movie (or episode of Reno 911!). But last Wednesday, the California Highway Patrol pulled over a goat – yes, a goat – during a routine DUI stop in Riverside County. (Well, actually the goat wasn't driving – the goat was a passenger in a car. But the story is nevertheless quite comical.)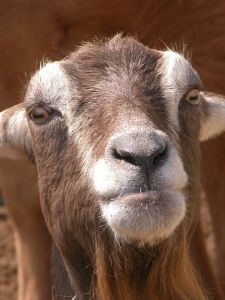 Most defendants struggling with charges of DUI in Glendale, DUI in Los Angeles, Pasadena DUI, or Burbank DUI are fortunate, in that their cases are relatively straightforward – or at least not embarrassingly absurd enough to merit a "news of the weird" mention in the paper.
In any event, when the CHP officer approached the truck near Mayberry Avenue in the town of Hemet, a (human) passenger fled the vehicle and almost immediately "fell flat on his face." The female goat was likely stolen, according to a local animal services representative. By Thursday, the goat was "comfortably" at a local animal shelter in Riverside.
Meanwhile, across the country in Miami, 52-year-old David Hodge was arrested last Thursday for his 12th – yes, 12th – DUI. He remains in jail, at least as of this post, on a bail of $100,000. Yikes.
Often, police officers won't see something as obvious as a goat in your truck to alert their suspicions. They thus look for subtler symptoms of DUI in Long Beach, including:
• Inconsistent stories about where you have been and where you are going;
• Erratic driving (e.g. swerving out all over the road);
• You smell like alcohol or there are open containers of alcohol in your car;
• You don't respond naturally to officer's questions;
• Your eyes are bloodshot or watery;
• Your speech is slurred;
• You lack coordination;
• You have difficulty following officer instructions.
Not everyone who exhibits these Long Beach DUI symptoms should be classified as actually DUI – for instance, you might have bloodshot eyes because you haven't slept in two days (still not a good idea to be driving). Conversely, you can be DUI and NOT exhibit any of these signs.
This simple logical observation suggests that suspect should consult with a proven and results-oriented Los Angeles criminal defense attorney to combat charges. Someone like Michael Kraut of the Kraut Criminal & DUI Lawyers — (444 West Ocean, Suite 800 Long Beach, California 90802, Phone 562-531-7454) — can provide superior service for defendants.
Attorney Kraut attended Harvard Law School, one of the top law schools in the country, and spent 14 years as a city prosecutor for L.A., during which time he sought (and got!) stiff penalties against DUI drivers. In short, Attorney Kraut understands how the system works from both sides, and this makes him a potent criminal defense lawyer – not only trusted by clients and feared by prosecutors but also respected by impartial arbitrators, such as media organizations like CNN and the New York Times, who call upon him for expert advice on breaking DUI news stories.

If you have been arrested for a DUI in Long Beach or you are under investigation for driving under the influence in Southern California, please contact Los Angeles criminal defense attorney Michael Kraut for 24/7 assistance by phone at (323) 464-6453 or toll free at (888) 334-6344 or online.