Burbank DUI News Eclipsed by Bizarre Bicycle Arrests in Baldwin Hills
Often, the most bizarre Los Angeles DUI news items come out of the valley (places like Burbank and Glendale). But last week, Baldwin Hills had the honor of being the site of a super-strange DUI bust in the Southland.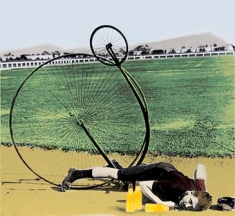 If you or a coworker or family member was arrested recently under suspicion of Los Angeles DUI, DUI in Pasadena, driving under the influence in Glendale, or Burbank DUI, take note at how seriously Southern California police took the dangerous behavior of a gaggle of Baldwin Hills bicyclists:
According to the AP, around 1:30 in the morning, California Highway Patrol got a call saying that a bicyclist had careered into the pavement and hurt himself. Officer Travis Ruiz came to the scene and found 15 bicyclists gathered around their fallen comrade. Many bikers lacked helmets and reflective clothing or gear. The bikers had alcohol on their breath. After taking field sobriety tests, five different bikers – including the one who got hurt – were found to have blood alcohol levels that constituted DUI. These five were arrested – even though they were driving bicycles and not motorcycles, cars or trucks.
As this blog has cataloged in the past – specifically with lawnmower DUIs – Long Beach DUI law is very strict. If a California Highway Patrol officer stops you for operating a motor vehicle under the influence of drugs or alcohol, you will face stiff charges according to either California Vehicle Code Section 23152 (a) or 23152 (b). If convicted, you face a plethora of unpleasant penalties, from harsh probation to a full year driver license suspension to forced installation of a device in your car that won't allow you to drive unless you blow a sober breath into it. And of course serious jail time always lurks as a possibility.
Your best line of defense is to connect immediately with a talented Los Angeles criminal defense attorney. One of the reasons why many Burbank DUI defendants choose the Kraut Law Group — (located at 2600 West Olive Avenue, 5th Floor, Burbank, California 91505, Phone 818-563-9810) — is that Attorney Michael Kraut and his team deeply understand the concerns that DUI defendants have. With more than a decade-and-a-half experience in the system – including 14 years as a local prosecutor – Attorney Kraut can help answer those nagging questions that have been keeping you up since the night (or day) of your Burbank DUI arrest.

If you have been arrested for a DUI in Burbank or you are under investigation for driving under the influence in Southern California, please contact Los Angeles criminal defense attorney Michael Kraut for 24/7 assistance by phone at (323) 464-6453 or toll free at (888) 334-6344 or online.