Lessons from California's Big Drought for Los Angeles DUI Defendants
Even if you've been consumed by concern over a recent Los Angeles DUI arrest, you've no doubt at least been aware of the hand wringing and impassioned discussion about California's epic drought and the impact that it will have on industry, communities and homeowners.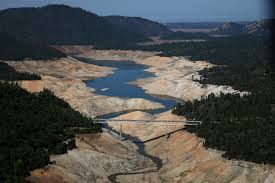 Despite California's implementation of water conservation measures, many engineers worry that, with our reservoirs running low and longer concerns about climate change adding uncertainty to the mix, water planning challenges will abound for some time.
Will the drought subside as El Nino surges in the Pacific?
Will we continue to deplete our aquifers until we are forced to take extreme measures, like cutting off water to almond farmers or forcibly desalinizing the Pacific to keep our cities hydrated?
Dealing with an experience like a DUI arrest creates a similar lack of stability on an individual scale. Your mind constantly generates questions like:
Will I go to jail for the DUI?
Will I lose my license? (If so, for how long?)
What can I do to stop the punishments?
Do I need a DUI lawyer? If so, how can I choose among the seemingly infinite number of them I can find online and through referrals?
What is the real reason I got arrested in the first place?
Do I have a problem with alcohol, or was this a fluke?
What's going to happen to my job?
What am I going to tell my kids?
Etc.
The task of handling the aftermath of your DUI involves getting clarity on these and many other questions. Developing a tactical roadmap for your DUI defense won't instantly solve your problems, but it can eliminate anxiety caused by the lack of clear understanding of what's to come.
California engineers, city planners and homeowners won't be able to change Mother Nature just by rationing water and allocating resources, but they can forestall some bad consequences and – more importantly — put themselves in a position to react strategically and nimbly to unforeseen events.
Likewise, when you develop a DUI defense the right way, you can forestall some negative consequences and put yourself in a better position to react to the evolving elements of your case.
To that end, please consider calling Michael Kraut of the Kraut Criminal & DUI Lawyers to schedule a free consultation with a qualified Los Angeles DUI defense attorney. Mr. Kraut is a Harvard Law School educated ex-prosecutor with nearly 20 years of experience and an excellent track record for getting justice for DUI defendants.
Have you been stopped for DUI in Los Angeles, contact attorney Michael Kraut at (323) 464-6453 or online. Our team is located at 6255 Sunset Boulevard, Suite 1520, Los Angeles, California 90028.