How Does Your Los Angeles DUI Compare to the Following?
Was your Los Angeles DUI this bad?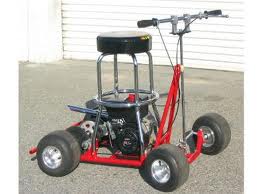 After consuming 15 beers, 28-year-old Kile Wygle, of Newark, Ohio, hopped onto a motorized bar stool that he had made himself out of a deconstructed lawnmower.
Unsurprisingly, he crashed.
Wygle's friend called 911 and told police "I got a friend who wrecked a bar stool." The dispatcher at first was confused and thought Wygle had hit his head on a bar. The friend said, "no, he was riding the bar stool … a motorized bar stool."
Wygle had to go to the hospital for minor injuries. After the crash, he told a reporter "I drank quite a bit after I wrecked." He also told police that his homemade contraption could reach speeds of up to 38 miles per hour.
Whether he overestimated his vehicle's capacity or not, his statement indicates that he knew that the stool could be dangerous. Had he ridden it on an open road, he could have hurt other people.
Unfortunately, when you're young — and trying to impress friends with a homemade, motorized gizmo — safety may not be at the top on your list of concerns. But you can still land a serious DUI charge, even if what you're driving does not technically look like a car or truck.
Most Los Angeles DUI charges are relatively "boring" — they involve stops at checkpoints and commonplace violations of California Vehicle Code Sections 23152 or 23153. Perhaps your situation was more "exotic" than the standard DUI. Maybe you were at a UCLA or USC frat party. Some "new wild friends" got you to drive up to the Hollywood sign, but you drove your car into the woods and got stuck on a hiking trail – something like that.
No matter how ridiculous (or pedestrian) your charges are, you need two forms of clarity.
#1. Get Clear on Where You Are Now
What charges do you face? What might your punishments be? What options you have to deal with your legal crisis? etc.
#1. Get Clear on Your Ideal Outcome
Given the realities of your situation — from a best case scenario — what could you expect? How can you make that positive outcome occur?
While you're certainly free to try to figure out the answers to these questions on your own, that's not a particularly savvy strategy. Consider connecting with a Los Angeles DUI defense attorney, like Michael Kraut of the Kraut Law Group. Mr. Kraut is an ex-prosecutor who retains very good relationships with his former prosecutorial colleagues… as well as with judges, police officers and other members of the Southern California legal community.

If you have been arrested for a DUI in Los Angeles or you are under investigation for driving under the influence in Southern California, please contact Los Angeles criminal defense attorney Michael Kraut for 24/7 assistance by phone at (323) 464-6453 or toll free at (888) 334-6344 or online.