Horrendous Hollywood DUI News: Barbara Walters' Daughter Busted with 0.218% BAC
Some breaking Hollywood DUI news.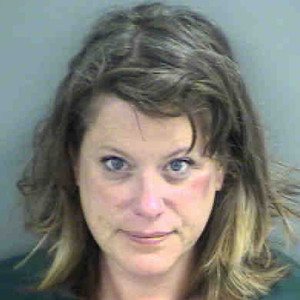 Jacqueline Walters Danforth, the 44-year-old daughter of recently retired news anchor Barbara Walters, was recently arrested for DUI in Naples, Florida. According to reports from the New York Daily News and TMZ, Jacqueline and her boyfriend had been driving a Honda Pilot on the highway, when police stopped them for driving without their lights on.
Police described a volatile encounter with Jackie and her male passenger, who appeared to be extremely under the influence. As the police arrested the boyfriend, Jackie apparently "began shouting," prompting the arresting officer to take action. In his report, he wrote "I was afraid the suspect might run into traffic on the highway, so she was taken to the ground due to her unpredictable behavior, and then secured in handcuffs."
When the now 44-year-old was a teenager, she got into lots of trouble. She even appeared with her mom on several TV specials to discuss her issues, in the hopes that other parents and troubled kids could learn lessons.
Per the police report, Jackie's breathalyzer test result was 0.218%. For those of you keeping score, that's more than 2.5 times (!!) the limit for DUI in Hollywood or anywhere else in California. Shortly after her arrest, she paid her bond of $1000.
Jackie is Barbara Walters' child with her second husband, Lee Guber. Walter, who discussed Jackie's difficult childhood and substance abuse issues in her biography, just retired from TV journalism as the host of The View, after a 50-year broadcast career.
Lessons for Other Hollywood DUI Defendants
Being a child of privilege or celebrity does not inoculate you from stress, pain, and bad decision making. In fact, anecdotal evidence (at least) supports the idea that children brought up in the spotlight – i.e., kids who have extremely famous parents – face extra challenges and pressures that can lead to bad decisions and dangerous behavior.
Examples abound. Think about the high profile Los Angeles DUI arrests of people like Lindsay Lohan and Mel Gibson. Or consider the Los Angeles lewd conduct charges against famous grown up child stars, like Macaulay Culkin and Nick Stahl.
The point is that many people arrested for driving under the influence in Hollywood (or elsewhere) deserve kindness and help. Everyone experiences rough spots. And everyone deserves a chance to make amends.
The big question is: how do you do that, safely, ethically, and legally?
In other words, what should you do about your Hollywood DUI charges?
Every case is different. Fortunately, an experienced lawyer at the Kraut Criminal & DUI Lawyers can help you. Mr. Kraut is an ex-prosecutor (14 plus years as a Deputy District Attorney) who maintains close relationships with his ex-prosecutorial colleagues and judges. Connect with attorney Kraut today for insight and a free case evaluation.

If you have been arrested for a DUI in Beverly Hills or you are under investigation for driving under the influence in Southern California, please contact Beverly Hills criminal defense attorney Michael Kraut for 24/7 assistance by phone at (323) 464-6453 or toll free at (888) 334-6344 or online.