Hollywood DUI Mega Drama – Reese Witherspoon Arrested for Disorderly Conduct After Husband, James Toth, Gets DUI
Our Hollywood DUI story of the week is clearly the Reese Witherspoon incident. The "Legally Blonde" actress didn't nab the DUI, though. That honor goes to her husband, CAA uber-agent, James Toth.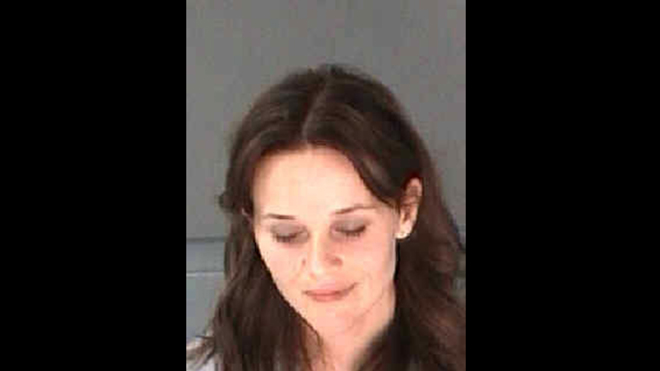 Witherspoon and Toth had been in Atlanta, where the actress was shooting a movie (The Good Lie), when an Atlanta trooper saw Toth's Ford Focus weaving in and out of lanes. Trooper First Class, J. Pyland, 42, stopped the vehicle. He reported that Toth's eyes looked bloodshot and that his clothing looked disheveled.
After the agent allegedly failed his field sobriety tests, Pyland gave him a breathalyzer test. Toth blew a 0.139% BAC, which is nearly double the limit for Hollywood DUI of 0.08%, as defined by California Vehicle Code Section 23152(b). (Even though the couple got arrested in Atlanta, the "0.08% limit" is basically the national standard.)
The drama did not stop with Toth's arrest, however.
Witherspoon allegedly stuck her head out the window and lashed out at Pyland, accusing him of not being "a real police officer."
Per Pyland's report: "I told Mrs. Witherspoon to sit on her butt and be quiet." When she refused and instead got out of the vehicle — exercising her self-declared right to "stand on American ground" — Pyland handcuffed her. He wrote: "I put my hands on Mrs. Witherspoon's arms to arrest her…[she] was resistant, but I was able to put handcuffs on her without incident due to Mr. Toth calming her."
Witherspoon allegedly asked him "Do you know my name?" He said he didn't. She told him "You are about to find out who I am…you are going to be on national news." The officer impounded their car and sent both Toth and Witherspoon to jail in Atlanta.
A passenger in the back – who has not been identified yet – went home in a cab.
The celebrity power couple made bail the next morning, and Witherspoon's attorney hammered out a deal to prevent her from getting a criminal conviction by doing a pretrial intervention program. She will need to check in with the judge on May 22nd to determine her compliance with the program.
The 37-year-old actress did walk on the Red Carpet at the NYC premiere of her new film, Mud, but she did not give fodder to the media afterwards by taking questions.
Mrs. Witherspoon's post-arrest trauma overshadowed Toth's DUI arrest. Lucky, in some sense, for him: it's a pretty big deal when a major Hollywood agent gets arrested for DUI in Hollywood. It's a bigger deal – at least from the national media's perspective – when an actress of Witherspoon's stature winds up behind bars.
Implications for your Hollywood DUI defense
This story does a good job of highlighting how no one is above the law. And no one is above doing "stupid things" before, during, or after a Hollywood DUI arrest. In the sober light of day, it's easy to regret what you did or didn't do. The challenge now for you is to figure out how to make your life simpler and how to be strategic going forward.
Connect with the Hollywood DUI attorneys at the Kraut Criminal & DUI Lawyers to understand the implications of your arrest and develop a strategy. Mr. Kraut is a Harvard Law School educated ex-prosecutor with the means and technique to provide you an excellent defense.

If you have been arrested for a DUI in Beverly Hills or you are under investigation for driving under the influence in Southern California, please contact Los Angeles criminal defense attorney Michael Kraut for 24/7 assistance by phone at (323) 464-6453 or toll free at (888) 334-6344 or online.