"Guilty" Verdict Handed Down in Southern California DUI Case for Pro Bowl Wide Receiver
Last Wednesday, Chargers wide receiver Vincent Jackson pled guilty to driving under the influence in Southern California in January 2009, and prosecutors set the terms of his sentencing.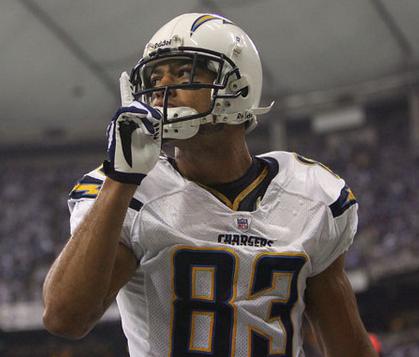 The 27-year old Jackson had been arrested in January with a BAC of 0.17% (California's legal limit is 0.08%). The January '09 arrest was actually his second Southern California DUI. He was busted in June 2006 and convicted for that DUI — netting him a $1,750 fine and five years of probation. This time, he did not get off so easily. In addition to a concomitant fine (of $2,408) and another five years probation, the wide receiver will have to do 15 days of community service and will likely be suspended by the National Football League for at least two games.
In light of recent comments Jackson made in the radio interview, during which he taunted his prosecutors, many analysts are saying that Jackson is getting off pretty easy. For a comparison, the City Attorney's Office had requested the Judge to give Jackson 180 days in jail — also known as "substantial custody." City attorneys were also miffed because Jackson managed to pull off a string of continuances that allowed him to delay his Southern California DUI sentencing until after the NFL season. (Nevertheless, San Diego's City Attorney did not oppose the two continuances when they were filed.)
The Jackson sentence may or may not be an aberration, depending on who you speak to. But how do the sentencing guidelines differ for first and second time Burbank DUI offenses?
Sentencing can depend on a host of factors, including the context of the DUI arrest, whether or not the defendant cooperates with prosecutors, whether anyone was injured during, and so forth.
That said, typical first time penalties for Southern California DUI include:
• 48 hours in jail with six months maximum imprisonment
• Mandatory installation of Interlock Ignition Device (IID) — this is a new punishment that went into effect in January 2010
• Six weeks minimum DUI alcohol school (nine months maximum)
• A suspension of California driver's license for a full year
• $1,000 fine
• Court costs (often can be significantly higher than $1,000)
• Strict terms of formal probation for misdemeanor DUI offenders
Second time DUI offenders typically can get the following penalties:
• Jail time of four to ten days (minimum); maximum six months
• Two year suspension of California drivers' license
• 18 months minimum DUI alcohol school (30 months maximum)
• Imposed installation of IID
• Fines and court costs which can be much higher than first time DUI fines
• Probation terms which can be much stricter than terms for first time violators
For help analyzing your Burbank DUI defense, you may need to turn to an experienced attorney.

Michael Kraut (of Los Angeles' Kraut Criminal & DUI Lawyers) can provide a free, no obligation consultation. Attorney Kraut is Harvard Law School educated, and he is a former prosecutor. As a result of serving nearly 15 years as a prosecutor (rising to the level of senior Deputy District Attorney for LA), Attorney Kraut has developed a deep understanding of how the law works, both in theory and practice.
If you have been arrested for a DUI in Burbank or you are under investigation for driving under the influence in Southern California, please contact Los Angeles criminal defense attorney Michael Kraut for 24/7 assistance by phone at (323) 464-6453 or toll free at (888) 334-6344 or online.