Glendale DUI News Alert: Bad News Comes in Fours
Getting arrested for driving under the influence in Glendale or elsewhere in Southern California is no picnic. But often, offenders compound their legal woes both during and after arrest. We're going to take a look at two unfortunate stories from the past week – both involving the number four. One involves a North Dakota man who got arrested twice in four hours for DUI; the other involves a Pennsylvanian man who racked up his fourth DUI in a McDonald's parking lot.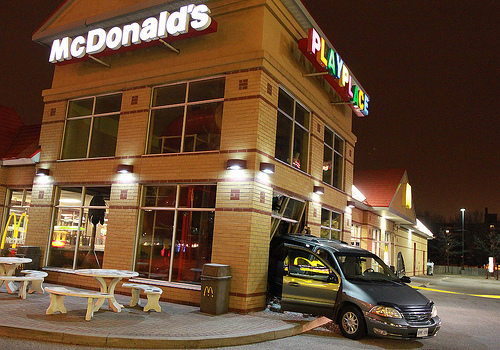 If someone you care about has gotten arrested for Glendale DUI, Burbank DUI, DUI in Los Angeles, or DUI in Pasadena, these two cautionary tales may be quite useful to you.
Turmoil in West Fargo
The AP reports that, last Thursday, a 40-year-old man got pulled over at 2:20 A.M for suspicion of DUI in West Fargo, ND. The man made his bail and then immediately got behind the wheel again. Some passerby saw him "slumped over the wheel of a running vehicle with its lights on" at 5:40 A.M. Surprise, surprise, the police promptly busted the man again for DUI – not even four hours had elapsed between arrests.
Big Woes in Ridley Township
Meanwhile, more than 1,000 miles away in Ridley Township, Pennsylvania, Christian M Sweeney smashed his red Oldsmobile into a woman waiting in a McDonald's drive-through. Just two months ago, Sweeney had passed out in front of a Wawa. Police tested him for DUI, and he blew an astounding 0.62% BAC on a breathalyzer. For some perspective on this number, consider that the legal limit for a Glendale DUI (as defined by California Vehicle Code Section 23152 (b)) is just 0.08%. This means that Sweeney blew a BAC of nearly eight times the California legal limit! If you consult alcohol experts, many will tell you that 0.50% BAC is often fatal. If Sweeney's December BAC reading was correct, it's actually a miracle he survived.
In any event, officers reportedly found not only a bottle of vodka in Sweeney's pants but also an empty hydrocodone bottle in his car. On top of that, Sweeney exhibited signs associated with Glendale DUI, such as "odor of alcohol coming from his breath and person," red and glassy eyes, and slurred speech.
Does DUI bad news always come in fours?
Not necessarily. Each DUI defense offers unique nuances and defensive resources. If you or someone you care about was pulled over in the Valley or elsewhere in the Southland for the crime of driving under the influence of alcohol or drugs – or some variation of that crime – trust your defense to a competent Los Angeles criminal defense attorney.
Mr. Michael Kraut of Glendale's Kraut Law Group (located at: 121 W Lexington Dr, Glendale, CA 91203 Phone: (818) 507-9123) can provide a stiff, strategic, and sophisticated defense for you. As a regular commentator for the BBC, Fox News, the Los Angeles Times, and other widely respected publications – and as a Harvard Law School educated former prosecutor – Mr. Kraut can provide peerless legal assistance.

If you have been arrested for a DUI in Glendale or you are under investigation for driving under the influence in Southern California, please contact Los Angeles criminal defense attorney Michael Kraut for 24/7 assistance by phone at (323) 464-6453 or toll free at (888) 334-6344 or online.