DUI Drivers End Up In Bad Situations
While no one who is DUI in Los Angeles is safe from harming themselves or others, some drivers get themselves in more difficult positions than others. Here are a few examples: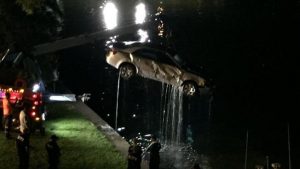 •    In Montgomery County, Maryland, a 26-year old man drove his car through a gate, onto a ferry and into the Potomac River around 1:30 a.m. on the night of October 7th. Although White's Ferry wasn't open at the time, a ferry captain who lived nearby heard the man's screams and was able to rescue him. Police charged the driver with DUI.
•    A 43-year-old woman from Clearwater, Florida, drove for three miles on the wrong side of U.S. 19 near Tarpon Springs. During her northbound trip in the southbound lanes, Anna Marie Sosa avoided a head-on collision with another vehicle only because the other driver was able to take evasive action. (The other car did suffer minor damage to the bumper.) A police officer finally stopped the woman and charged her with DUI and leaving the scene of an accident.
•    37-year-old Kelly Orton crashed into a flashing speed limit sign in Evanston, Ohio, around 9 a.m. on September 21. He hit the sign so hard that he carried it into a nearby ditch, then continued  going through a fence at a nearby school. After a short visit to the hospital, Orton traveled to the police station with police officers, where they arrested him for DUI and driving with a suspended license (for a previous DUI conviction). Although school drop offs were going on at the time of the accident, no one at the school suffered any injuries.
Conviction on a DUI charge can land you in a bad place in California. The state's Vehicle Code 23152 calls for penalties that could include fines plus court assessments, up to a year in jail, informal probation for three to five years and mandatory participation in a California DUI school.
Do you need help defending against a serious charge? Call a qualified Los Angeles DUI defense attorney with the Kraut Criminal & DUI Lawyers immediately.