Drivers Can Run But They Can't Get Away
Motorists who cause an accident while driving under the influence may try to escape the consequences by fleeing the scene. But their respite from arrest is usually brief, and they're picked up and charged with a Los Angeles DUI or some similar offense.
But it's not always easy to make a clean getaway. Just ask William Yeckering of Owens, Illinois. He rammed into another vehicle while allegedly driving under the influence and tried to run away. But he had made the mistake of hitting a car owned by 6' 2" high school football player Evan Williams.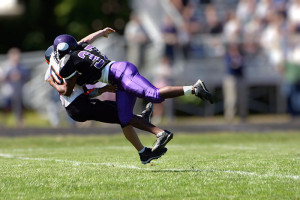 The senior guard and defensive tackle put his on-field skills to use by chasing after Yeckering and bringing him to the ground. Williams held Yeckering down until police arrived at the scene.
Williams was dressed up for his impromptu chase—he and his date were leaving the prom when Yeckering hit their car.
The abrupt end to the chase wasn't the only unpleasant surprise that Yeckering faced that evening. When police arrested him, they found he had a gun in his car, for which he did not have a permit. They also discovered that he had four previous DUI driving arrests—and that he was driving on a suspended license.
Whether or not alcohol is involved, leaving the scene of an accident in California can get a driver charged with a hit and run misdemeanor or felony. For a misdemeanor charge, involving damage to property, fines can run to $1,000 and drivers face six months in county jail. When a driver leaves the scene of an accident involving personal injury, the fines can go up to $10,000 and the driver could end up in state prison for as long as four years.
As a frequent contributor to respected media, like The New York Times, The Los Angeles Times and Good Morning America, Los Angeles DUI attorney Michael Kraut of the Kraut Criminal & DUI Lawyers understands what it takes to build successful defenses in complex DUI cases. Contact him and his team today to schedule a consultation.
Have you been arrested for a DUI in Los Angeles? If so, please contact DUI defense attorney Michael Kraut at (323) 464-6453 or online. Our building is located at 6255 Sunset Boulevard, Suite 1520, Los Angeles, California 90028.