Daredevil Does Damage While DUI
People who enjoy a few too many drinks before getting behind the wheel may attempt to show off their driving skills—speeding along busy highways, taking tight turns, and similar maneuvers that are likely to get them involved in an accident or picked up for a Los Angeles DUI.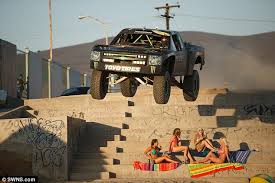 So what happens when a real-life driving daredevil allegedly drinks too much before speeding in his SUV? A four-car pile up.
Like his father, stuntman Evel Knievel, Robbie Knievel has made a career of daredevil motorcycle jumps. But he was driving a 2005 GMC Yukon when he ran a red light in Butte, Montana, on the evening of April 21. According to the Montana Standard, he was traveling at high speed when he rammed into a Honda Accord, which hit a Ford Taurus, which hit a Hummer.
Knievel sped away in his SUV, parked it a few blocks away and was walking down the street when the cops caught up with him. Knievel refused a breathalyzer test, so the officers got a warrant for a blood alcohol test. They charged him with felony DUI because he has three previous drunken driving convictions. He also faces the misdemeanor offenses of leaving the scene of an accident, operating a vehicle without an interlock device and running a red light.
Photos of the daredevil's arraignment show him sporting an orange jail jumpsuit, a big change from his trademark red, white and blue performance outfits. Knievel, who is 52, could be looking at some fairly serious consequences due to the DUI charge—up to five years in prison and $50,000 in fines.
What should you do if you or someone you love faces a serious DUI count? Will you go to jail? Will you lose your license? Call Los Angeles DUI defense lawyer Michael Kraut immediately to understand your options and craft a strategic response.
If police stopped you for Los Angeles DUI, you may be worried and anxious. Contact Harvard Law School educated, ex-prosecutor Michael Kraut for assistance at (323) 464-6453 or online. Our team is located at 6255 Sunset Boulevard, Suite 1520, Los Angeles, California 90028.