Driver On DUI Probation Causes Fatal Crash
Some people never seem to learn, no matter how many times they suffer the consequences of an arrest for a DUI in Los Angeles. Even as they're paying the penalty for one DUI offense, they're committing another.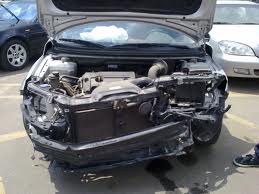 Christopher Thomas Nash of Hesperia, California, may finally understand the consequences of driving while intoxicated. But that realization comes too late for 27-year-old Andrea Anderson, who died as a result of an accident that Nash allegedly caused.
The 31-year-old man was driving his white GMC truck south on Armagosa Road around 4:30 in the morning of July 30th when he crossed the double line and drove into oncoming traffic. The truck hit the red Kia Forte driven by Anderson, who suffered fatal injuries. Paramedics pronounced Anderson, who was an only child, dead at the scene.
The accident, which demolished the front end of the Kia, trapped Nash in his car. Emergency workers had to extricate him before a helicopter airlifted him to Loma Linda Medical Center. Police had to shut down traffic in the area for several hours while they investigated.
Witnesses who stopped to assist after the crash reported that Nash appeared to be out of it and that he smelled strongly of alcohol. They also said that they spotted a beer bottle among the wreckage.
The court had placed Nash on probation after his conviction on misdemeanor DUI charges stemming from incidents in April and July of 2014. He had actually gone to court in May 2015 to request modification of his probation on those charges. (Apparently the court didn't grant that request.)
Police have charged Nash with vehicular manslaughter while intoxicated. Since he can't make bail of $250,000, he's staying put in the West Valley Detention Center at present. He could face fines of up to $10,000 and/or four to six years in jail if convicted.
Los Angeles DUI defense lawyer, Michael Kraut, of the Kraut Criminal & DUI Lawyers is standing by to offer critical insight into your case and potential defense options. Call him and his team today to begin regaining control over your case and your life.
If police arrested you for Los Angeles DUI, you may feel scared and confused. Contact Harvard Law School educated, ex-prosecutor Michael Kraut for assistance at (323) 464-6453 or online. We're located at 6255 Sunset Boulevard, Suite 1520, Los Angeles, California 90028.