Criminal Charges for Two Motorcycle Officers Who May Have Lied Under Oath about Los Angeles DUI Stop
Breaking news in a story that has riveted the Los Angeles DUI defense community: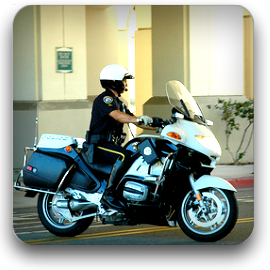 Two LAPD police officers, Phillip Walters and Craig Allen, face charges of falsifying a police report and perjury under oath. The officers were involved in a stop at Highland Park in 2010 as members of a DUI Task Force. A fellow officer, Cecilio Flores, saw a female driver go through two different stop signs, so he pulled her over. Flores said the woman had an odor of alcohol on her and bloodshot eyes – "classic" symptoms of Los Angeles DUI. He radioed Allen and Walters to help him with the stop. (This is technically known as a "hand-off." In even more colloquial police terms, it's called a "gimme.")
Allen and Walters put the woman through a field sobriety test, booked her on charges, and took her to jail. Then Allen started up the paperwork… and that's where all the trouble began.
According to prosecutor Rosa Alarcon, "[Allen] wrote that he was in the area when they pulled over the vehicle … he didn't mention Flores." Walters, for his part, testified at a DMV hearing that he saw the woman driving, when he didn't.
Walters and Allen said that they both just made mistakes – they didn't follow procedure correctly. But prosecutors countered that they committed perjury. After the two officers admitted to their errors, Charley Beck, the LAPD's Chief, released this statement: "I do not believe that their intent was evil, just extremely misguided… the character of our organization is defined by the conduct that we condone. These actions were entirely unacceptable."
Allen was fired from the force, and Walters remains on suspension from the LAPD. Interestingly – as Allen's defense lawyer pointed out – "there was no motive… there was nothing to gain" from perjury
Who really knows what happened – why the officers did what they did. But the incident speaks to a broader point, which defendants charged with driving under the influence in L.A. need to understand: DUI arrests often get chaotic. Even observant officers can accidentally (or very occasionally, on purpose) mischaracterize what took place.
The key to building a sound defense, therefore, lies in your ability to examine all relevant evidence critically in context and respond intuitively and appropriately to the charges. That may sound like a tall order. Fortunately, you don't have to work on this problem by yourself.
The team here at the Los Angeles' Kraut Criminal & DUI Lawyers is standing by to assist you with your challenging legal situation and help you feel comfortable, focused, and motivated to fight back and move forward with your life. Attorney Kraut is an ex-prosecutor, whose opinions have been featured in the New York Times, Los Angeles Times, KTLA, and other big media.

If you have been arrested for a DUI in Los Angeles or you are under investigation for driving under the influence in Southern California, please contact Los Angeles criminal defense attorney Michael Kraut for 24/7 assistance by phone at (323) 464-6453 or toll free at (888) 334-6344 or online.