Crazy DUIs of the 21st Century
Most DUI arrests don't get a lot of attention from the general public or news media unless they involve a celebrity and/or result in a horrendous accident. Over the last two decades, however, there have been several arrests for DUI that have attracted widespread media notice and/or gone viral because they are simply so outrageous or bizarre.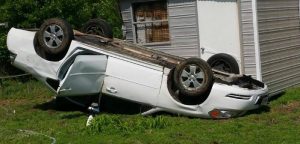 Here's a sampling.
The family that drinks together…
New Zealand may hold the record for the number of people in a single family arrested for DUI in just one night.
A teenager in Timaru got a quick trip to the police station when officers picked him up for drinking and driving in June 2011. After processing, the boy called his mother to request a ride home. As the mother made her way to the station, other officers stopped her and arrested her for DUI; she had nearly twice the legal limit of alcohol in her system.
The mother called her partner, asking that he come and get her and her son.  But the partner never made it to the police station on his own; police pulled him over for DUI as well.
(Apparently the next ride the trio called was able to make it to the station without incident.)
Too much Christmas cheer
People who lined up for the annual Christmas parade in the City of Anderson, South Carolina, got more of a spectacle than they expected in December 2006. David Allen Rodgers was driving a parade float for the local dance studio; his daughter was among the 19 children and adults on the float. But towards the end of the parade route, Rodgers suddenly accelerated, sped past the float in front of him and powered through a red light.
Rodgers led police on a three-mile chase before they were finally able to pull him over and rescue the float's riders. The officers found an open container of alcohol in Rodgers' truck. They charged him with DUI plus multiple counts of kidnapping and assaulting an officer.
At his hearing, Rodgers said that he had made a very bad mistake. No reports on whether or not he found coal in his stocking that Christmas.
Halloween hijinks
James Miller of Oxford, Ohio, thought he had the perfect idea for a Halloween costume in October 2009; the 20-year-old dressed up as a breathalyzer. After an evening of partying, Miller drove off in his car but forgot to turn on the headlights. He also took a wrong turn, driving his vehicle the wrong way on a one-way street. That was enough to attract the attention of police, who found beer in his front seat and in the truck.
Police then asked the man in the breathalyzer costume to take an actual breathalyzer test. Miller's blood alcohol content measured almost twice the legal limit. He faced charges of DUI, underage possession of alcohol, having a fake ID, having an open container and going the wrong way on a one-way street.
Just a year later, Matthew Nieveen of Lincoln, Nebraska, decided to copy Miller's breathalyzer costume. It's too bad that 19-year-old also chose to emulate the Ohio man's illegal behavior. Police pulled him over after they saw his pickup traveling erratically, crossing the center line several times. They not only found Nieveen in his breathalyzer costume, but also several cans and bottle of beer and a bottle of vodka. Like Miller, Nieveen had a BAC almost twice the legal limits and faced charges of DUI and underage drinking.
What's that on your car?
Police reports of DUI arrests frequently mention the damage that motorists do to their cars when they're under the influence—crumpled bumpers, smashed lights and even, more frequently than you'd think, vehicles traveling down the road without a tire. But few law enforcement officers can report that they've made a DUI arrest because of the driver managed to get a tree stuck to the car.
Last March, police spotted Maryann Christy, age 54, driving the wrong way on a one-way street. The officer who taped the arrest did not notice at first that Christy's vehicle had lost its bumper; his attention was fixed on the 15-foot tree that was standing upright in the front of the car. Christy apparently struck the tree (police found the airbags deployed) then continued to travel with it embedded in her Lincoln's grill. She couldn't remember exactly where she had her encounter with the tree.
Police took Christy to jail after charging her with DUI. There was no report on what happened to the tree.
Varied vehicles
DUIs where the accused is driving a regular car, truck or SUV are not generally noteworthy. But that situation changes when the vehicle is something out of the ordinary.
On New Year's Day 2015, motorists in Uniondale, New York, called police with reports that a street-sweeping vehicle was traveling erratically down the highway.  When police attempted to pull him over, 48-year-old Jerry Mitchell tried to flee. The only problem was his vehicle's top speed was about 35 miles per hour.  Mitchell said he had been cleaning parking lots when he decided he wanted a candy bar and took off to get one. Officers charged him with aggravated DWI and aggravated unlicensed operation.
Just a month or so later, police arrested a man in North Dakota for DUI while he was driving on ice. The ice was on a high school hockey rink; the vehicle that Stevan James Anderson was driving was a Zamboni. (He was supposed to be resurfacing the ice during a girl's hockey game.)  Spectators called police when they notice Anderson's extremely erratic driving. Anderson's blood alcohol content level was .30, more than three times the legal limit.
Dennis Anderson may have had some good reason to motorize his La-Z-Boy recliner. But there was no excuse for taking it out for a spin while he was under the influence. Anderson, a Minnesota resident, souped-up his recliner with a nitrous-boosted lawnmower engine capable of propelling the chair at speeds up to 20 mph.  He even added a stereo and cup holders.
One night in August 2008, Anderson drove his recliner to the local bar one night, had a few too many beers (eight or nine by his own count), and then decided to head home. Police picked him up after he hit a parked vehicle and charged him with DWI. They confiscated his recliner as well, eventually selling it off as permitted under Minnesota law. The notoriety of this arrest must have boosted the price; a buyer on eBay paid almost $11,000 for it.
In March 2009, Kile Wygle got the brilliant idea of constructing a vehicle from a barstool welded to a metal frame. Like Anderson, he powered it with a lawnmower engine. Also like Anderson, he crashed his vehicle, attracting the attention of police. The police report said Wygle had said he had "a lot" to drink before trying to do a U-turn on the street in front of his home. They charged him with DUI.
Although it would seem to be difficult to top a motorized recliner or bar stool for a DUI, Chris Petrie of Queensland, Australia, may have managed it. The 23-year-old ordered a kit of the internet for installing a motor in a beer cooler. He assembled it at a friend's house and then tried to drive it home. But when police spotted this irregular vehicle they pulled Petrie over and eventually charged him with driving under the influence. The police had plenty of evidence; Petrie that his motorized cooler was fully loaded with rum and Cokes.