Celebrity Pasadena DUI News: Cat Cora Arrest Videos Surface: Host Makes Fun of "Two Nerds" She Hit While DUI
We've covered some pretty hairy and scary Pasadena DUI mug shots on this blog.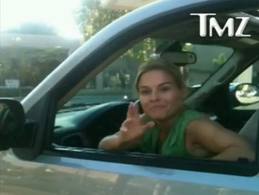 Even if you've been hiding under a rock over the past decade, you likely still remember Nick Nolte's grizzled DUI visage from several years ago. He looked like he had just gotten out of bed.
On the other end of the spectrum, you probably also remember Cat Cora's humdinger of a mug shot from last year. The host of Iron Chef and "Around the World in 80 Plates" got stopped for DUI in Santa Barbara last July, after she bumped another vehicle from behind.
Her unusually gorgeous mug shot likely made the folks at TMZ literally dizzy with excitement over how many website hits they would get. Even though Cora said she only consumed three beers before she got behind the wheel, breathalyzer test results found her BAC to be a whopping 0.19%. Just for comparison: The legal limit for Pasadena DUI is 0.08% BAC, as defined by California Vehicle Code Section 23152 (b).
Maybe Cora miscounted her beers. Or maybe her breathalyzer test had been off.
In any event, she later apologized for what happened in a statement: "I deeply regret my decision to drive that evening, after my designated driver became unavailable. I learned a very important lesson from this experience and take full accountability for my actions."
That sober, reflective Cora was very different from the Cora that surfaced recently in a video taken right after the crash. The people inside the car that Cora hit shot some crazy footage of Cora, who apparently glibly dismissed their request for insurance information. "Just because I bumped your car?" she asked, indignantly.
She didn't stop there:
"I'm being videotaped by two nerds who don't want to go have dinner together … do something exciting with their lives … really … wow … sad."
This kind of over-the-top reaction is surprisingly common in DUI cases in Pasadena and elsewhere. It's not that offenders want to get into more trouble or hassle people. It's that they are scared, confused, and emotionally ginned up. If, like Cora, you said or did "bad things" after your stop, do the right thing now and start researching effective legal help as soon as you can.
Michael Kraut of Pasadena's Kraut Law Group is here to help you gather yourself, make sense of the charges, and resolve your stresses, anxieties, and concerns. Get in touch with Mr. Kraut and his responsible Pasadena DUI legal defense team today for much needed peace of mind.

If you have been arrested for a DUI in Pasadena or you are under investigation for driving under the influence in Southern California, please contact Los Angeles criminal defense attorney Michael Kraut for 24/7 assistance by phone at (323) 464-6453 or toll free at (888) 334-6344 or online.