Celebrity Los Angeles DUI Bloggers Muse Fate of George Michael, as Wham! Singer Slams into London Storefront
Celebrity blogs and other media that cover Southern California DUI events have been bubbling over about the latest charges against former Wham! singer George Michael. The 47-year-old 80's pop icon got arrested in London on July 4 after he crashed his Range Rover into a photo shop in London. The pop star tested negative for DUI but positive for driving under the influence of marijuana (in England the charge is called "unfit to drive through drugs"), and he now faces serious penalties, including potentially a long stint in jail.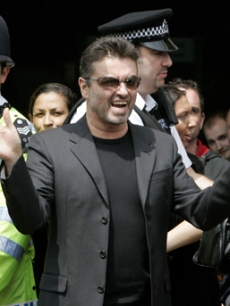 George Michael has been investigated by police seven times over the past six years for driving related incidents. Three times, he has been found by police unconscious behind the wheel. The first was in February of 2006, when he received a citation for smoking marijuana. Months later, he crashed his vehicle after he fell asleep. A few months after that, he also fell asleep behind the wheel, allegedly due to drug use.
George Michael has publicly admitted to smoking 25 joints a day (although, allegedly, according to UK tabloid reports, he is down to "seven or eight" a day now). The Wham! star had been attending a London gay pride event before he smashed his truck into a store named Snappy Snaps.
The sad and disturbing travails of the 80's pop star (whose real name is George Panayiotou) highlight how difficult it is for certain people to "get out of" destructive behavior cycles. Unfortunately for these recidivists, Beverly Hills DUI law does not take kindly to repeat offenders. Indeed, if, within 10 years time, you get convicted of two charges of Los Angeles DUI, you can face a two-year driver's license suspension, mandatory 96 hours in jail, a year-and-a-half's worth of alcohol school. The court may also impose additional penalties and restrictions – such as difficult probation terms.
Third time offenders can get increased penalties above and beyond that – including, most notably, 120-day minimum jail sentence.
Fourth time offenders get a minimum of 180 days in a county jail.
In certain multiple-DUI situations, what would ordinarily be a misdemeanor Hollywood DUI charge could be elevated to a felony – even absent any additional complications (such as hurting someone while DUI, causing serious property damage or being involved in a hit and run).
Whether you have a history of driving like George Michael, or you are a first time offender who is confused and scared, you could almost certainly benefit from a consultation with a trained and experienced Los Angeles DUI attorney.

Michael Kraut of Hollywood's Kraut Criminal & DUI Lawyers can offer seasoned guidance about how to proceed. Attorney Kraut is a former prosecutor with an excellent track record, a Harvard Law School education, and excellent relationships with local prosecutors.