Celebrity Los Angeles DUI Alert — Prolific Reality TV Star, Megan Hauserman, Arrested in Miami for DUI
More fodder for Los Angeles DUI and celebrity DUI bloggers — veteran reality TV star and self-described "actress" Megan Hauserman was arrested in Miami for DUI on April 16th at 3:15 AM.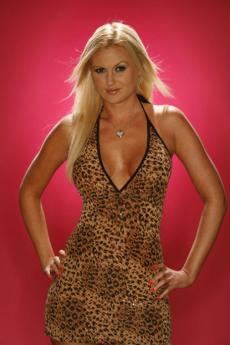 The 28-year-old Hauserman — a one-time Cyber Girl for Playboy and star of a slate of reality shows, including 'Rock of Love' (Parts 1 and 2), 'I Love Money,' 'Beauty and the Geek,' and her own project, 'Megan Wants a Millionaire,' which was cancelled after three episodes after one of the contestants murdered his wife — was stopped for driving 25 miles per hour over the speed limit on the MacArthur Causeway in Miami.
Megan allegedly failed her breathalyzer test by blowing a 0.102% (Florida's limit is 0.08% BAC — the same as the limit for Southern California DUI). Hauserman allegedly was on her way to her job at a strip club (New York Strip Steakhouse and Cabaret), but she told the troopers who pulled her over that she was heading to film a TV show.
Hauserman is no stranger to controversy. While filming a special episode for 'Charm School,' she got into a brawl with Sharon Osbourne and had to be physically removed from the set (in her bikini).
Police claim that Hauserman had alcohol on her breath. What other signs do police look for when investigating whether someone is or is not driving under the influence in Pasadena?

Los Angeles DUI signs can include:
o Disheveled appearance
o Inappropriate or non-answers to police questions
o Inconsistent or incoherent story telling
o Odor of alcohol on the breath (as Megan allegedly had)
o Watery eyes
o Fumbling, stumbling, and mumbling
o Lack of balance
o Admission to having had alcohol
o Inconsistent or inappropriate behavior (e.g. going from giddiness to hysterical crying)
o A general slowness and lack of alertness
What should you do if you've been hit with a charge of driving under the influence in Pasadena (or elsewhere in Southern California)?
Although you and your family may be stunned by your recent DUI charge, it may behoove you to take a quick and direct action to avoid the worst penalties and consequences. If convicted, you could lose your license, have to serve jail time, be forced to pay fines and court costs, and be compelled to install an interlock ignition device in your vehicle (among other punishments).

If you have been arrested for a DUI in Pasadena or you are under investigation for driving under the influence in Southern California, please contact Los Angeles criminal defense attorney Michael Kraut for 24/7 assistance by phone at (323) 464-6453 or toll free at (888) 334-6344 or online.
One good option is to consult with the Kraut Law Group in Los Angeles ASAP. Attorney Michael Kraut is a Harvard Law School trained former prosecutor. He has lots of trial experience and an established record of results for his clients.