Burbank DUI Sports News: David Diehl of the New York Giants Pleads Guilty to DUI Charges, Avoids Jail…
Breaking Burbank DUI sports news — David Diehl, an offensive lineman for the New York Giants, has pled guilty to DUI charges, stemming from a June 2012 accident.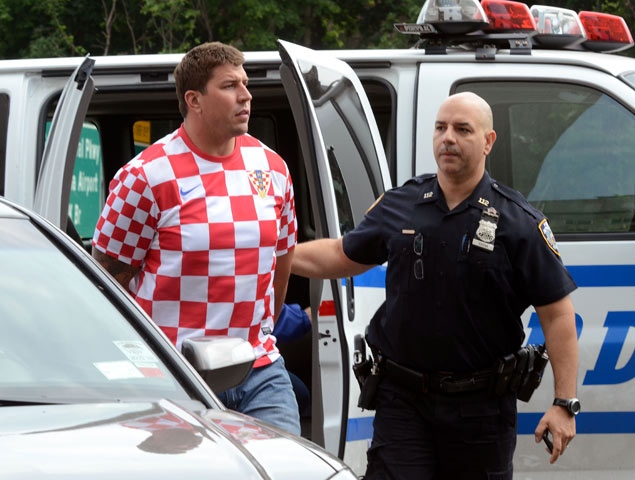 In early 2012, Diehl had been walking around with a shiny new Super Bowl championship ring on his hand. In early 2013, he'll get to wear a SCRAM bracelet to complement that ring — a considerable step down, in terms of glory and pride.
According to the New York D.A., Diehl crashed his BMW after watching a soccer game at a bar. Police used a breath test to peg him at 0.182% BAC. (For those of you keeping score, that's over 200% the Burbank DUI legal limit of 0.08%, as defined by California Vehicle Code Section 23152 (b)).
Per the guilty plea, Diehl will get to avoid jail time, provided that he stay out of trouble. He'll have to dole out some cash — $300 in fines along with $1200 in restitution. And the special SCRAM bracelet will measure his alcohol consumption. Assuming he passes his six-month discharge program with flying colors — and passes through the NFL's special substance abuse treatment program — his charges will be dismissed.
The 32-year old defensive lineman is obviously lucky to be alive. Many other people who get into Burbank DUI crashes (or crashes anywhere) end up dead or seriously injured.
Whether you are a sports celebrity, politician, or "working Joe," the law entitles you to a thorough and sound Burbank DUI defense.

But how do you contrive and execute such a defense?
The answer is actually quite counterintuitive.
For instance, you might be under the impression that, if you blew a positive for DUI on a breath test, then you're "stuck" with that positive reading. But depending on your circumstances, you may be able to challenge that number.
For instance, perhaps you're on a ketogenic diet or you have diabetes. If so, chemicals on your breath may have interfered with the breathalyzer and led you to blow a "false positive." Likewise, calibration errors, officer interpretation errors and other problems occur more commonly than most defendants (and even most police officers) appreciate.
For help unlocking the potential of your defense, connect today with the team here at the Kraut Criminal & DUI Lawyers. Our experienced Burbank DUI defense team can help you plan a smart course of action and deal with your charges strategically.

If you have been arrested for a DUI in Burbank or you are under investigation for driving under the influence in Southern California, please contact Los Angeles criminal defense attorney Michael Kraut for 24/7 assistance by phone at (323) 464-6453 or toll free at (888) 334-6344 or online.