Burbank DUI Nightmare Tragedy Avoided by Sheer Chance
What could have been a horrifically bloody Los Angeles DUI story fortunately ended with just a minor fender-bender and an arrest. Last week, a man apparently under the influence of alcohol pulled his car onto some railroad tracks parallel to San Fernando Road and fell asleep – literally with his car striding the tracks. Sure enough, at around 1:15 in the morning, a Union Pacific freight train came barreling along and smashed into the vehicle. Fortunately for the unconscious driver, the freight train hit the car at such an angle that it spun off the tracks and whipped around. Local Sergeant Jim Reed (of Foothill Station) noted that "(the driver) wasn't injured at all." Amazing.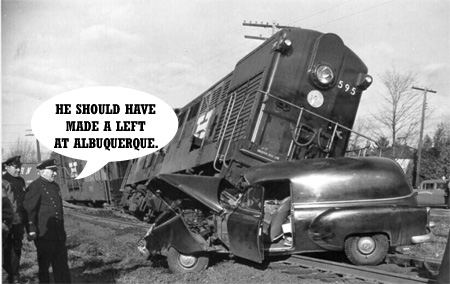 Drivers arrested for Burbank DUI, Glendale DUI, DUI in Pasadena, or DUI in Los Angeles are often lucky to be stopped before they get into a crash or hurt themselves or others. And sometimes, sheer luck prevents tragedies.
When many people imagine a driver falling asleep on a train track, they perhaps conjure up images of someone who has consumed bucket-loads of pills and alcohol. This brings up an interesting issue. Many people realize that driving under the influence of alcohol is wrong. But did you know that driving under the influence of drugs — including prescription pain medications and OTC drugs – can not only be as dangerous as (or even more dangerous than) driving under the influence of alcohol but that California Vehicle Code Section 23152 (a) considers such action a criminal offense? Even if you have a doctor's order to take a medication – or you are taking an over-the-counter drug – you can be arrested and charged for a DUI drug crime. Officers may not use a breathalyzer test on you. You might be subjected to a blood or urine test, however.
The good news, from a defendant's point of view, is that a Burbank DUI drug charge is actually harder to prove than a DUI alcohol charge. But a conviction can result in a jail time, major fines, license suspension, loss of security clearance at your job, points on your license, and indirect but substantial problems, such as a likely hike in your insurance rates.
To respond smartly and efficiently to these charges, you should almost certainly talk to an experienced Los Angeles criminal defense attorney. Burbank DUI attorney Michael Kraut (located at 2600 West Olive Avenue, 5th Floor, Burbank, California 91505 Phone: (818) 563-9810) has the knowledge, wherewithal, record of success, and in-house resources to provide you with a peerless defense. Mr. Kraut is no stranger to drug and DUI cases. Prior to becoming a criminal defense lawyer, he served as a prosecutor for the City of Los Angeles – more than 14 years as a Deputy DA – and he also brings his Harvard Law School education and high level connections to bear to help defendants get their best possible outcomes.

If you have been arrested for a DUI in Burbank or you are under investigation for driving under the influence in Southern California, please contact Los Angeles criminal defense attorney Michael Kraut for 24/7 assistance by phone at (323) 464-6453 or toll free at (888) 334-6344 or online.